Our team of Hall of Famers and guest writers are writing about all things Fantasy Premier League (FPL) in 2023/24. Next up, seven-time top 10k finisher Zophar takes his usual weekly Q&A.
Our writers will be providing regular articles throughout the season, with only Premium Members able to access every single one.
You can sign up here – once you're aboard, you've locked in the price of your Premium Membership for good, so long as you don't cancel!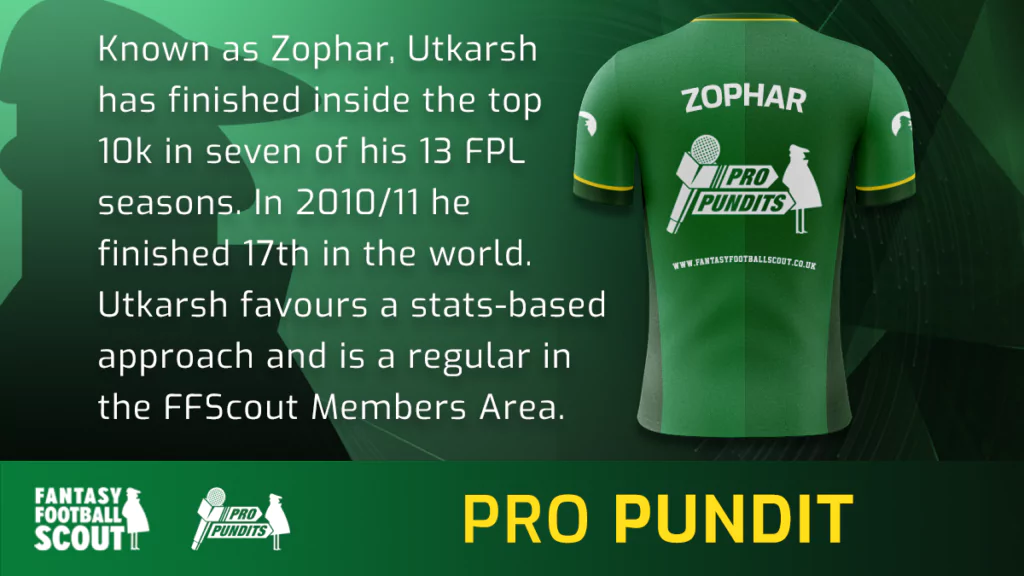 ---
Q: James Maddison or Son Heung-min to Bukayo Saka?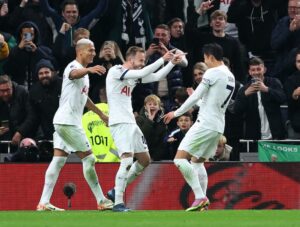 (via pon_vs)
A: Arsenal are a big talking point, with the Gunners entering a sweet run of fixtures over the next eight Gameweeks. It is worth mentioning, though, that there is the Newcastle United away fixture sandwiched between the two plum home ties against Sheffield United and Burnley.
Before we talk about Arsenal assets, I think it is worth discussing Tottenham Hotspur, who many of us are looking to hop off. James Maddison (£8.1m) has been a consistent, reliable asset since Gameweek 1, and Son Heung-min (£9.5m) is a legitimate Golden Boot contender now he's playing up front for an attacking Spurs side. They have no midweek cup ties for at least another four months and are top of the league. Yes, their fixtures toughen up a bit now but the buzz and feel-good factor around the Lilywhites is so positive that I think they will keep scoring goals. And any time they do score, you expect either Son or Maddison – or even both – will be involved in the points. They are perfectly good holds, so don't let the fixtures sway you: Spurs' attacking assets are great PFL picks.
Now if you are on a Wildcard, I understand the need to move on to teams with better fixtures and potentially higher 'ceilings', but I still wouldn't get rid of Son. I think the South Korean is the third-best attacking asset in the game after Erling Haaland (£14.0m) and Mohamed Salah (£12.8m). I would even rate him as a better FPL pick than Bukayo Saka (£8.5m). I can understand shipping Maddison, as he's not as explosive as Son; he will still get returns but fewer double-digit scores are likely.
If you're not on a Wildcard, I wouldn't be taking a hit to get Saka for Maddison or even do Son to Saka with a free transfer, primarily because of the Newcastle fixture in Gameweek 11. Arsenal's run from Gameweek 12 is a lot sweeter and by then we will have seen how Spurs perform in the slightly tougher games against Crystal Palace and Chelsea.
---
Q: Double Arsenal defence or midfield?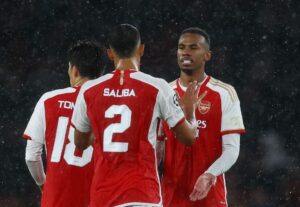 (via @General_Zod_PE1)
A: Arsenal are mid-table for most expected goals (xG) but in the top three for fewest expected goals conceded (xGC), which would indicate that Mikel Arteta has adapted their style to exert control in games a bit more. Saka is the obvious pick in attack, while the other would be one of Gabriel Martinelli (£7.7m) or Gabriel Jesus (£7.9m). The forward came off with a minor injury against Sevilla in midweek and the severity of it is unclear, with the striker himself thinking it to be not too serious. Jesus' availability has a huge impact on Martinelli, as well, because he simply isn't the same player when Eddie Nketiah (£5.5m) is leading the line. If Jesus is out for a period, that completely kills the appeal of Martinelli for me.
I think I would prefer double defence but the tricky bit there is that, although Gabriel Magalhaes (£4.7m) is available at a great price, there's not much upside to William Saliba (£5.2m) and I don't trust Oleksandr Zinchenko (£4.9m) to keep starting with Arsenal having three games a week. Ben White (£5.6m) is also a stretch too far with money needed in attack.
---
Q: Which player would scare you the most as a non-owner in Gameweek 10?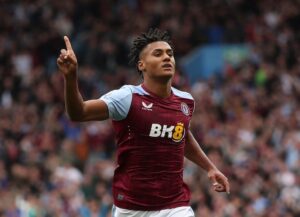 (via @Abbad99)
A: Given that Chris Wood (£4.9m) had seven shots against Luton Town last Saturday, it would be Ollie Watkins (£8.3m). While he has not been a 'scary' asset in the past, often delivering one return a match, it's clear something has changed over the last few Gameweeks, with him being more central and taking far more shots. He seems to have added a more 'selfish' side to his game and with Villa consistently scoring 3+ goals at home, the ceiling is much higher now. He's a legitimate captaincy option this week and I am trying to make plans to get him in my squad.
---
Q: Who are the best Bryan Mbeumo replacements under £6.7m?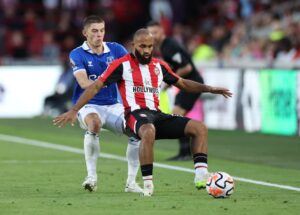 (via VALAR(KEITH))
A: I think the best options in that price bracket are Moussa Diaby (£6.7m), Kaoru Mitoma (£6.5m), Pedro Neto (£5.8m), Anthony Gordon (£5.6m), James Ward-Prowse (£6.3m), Tomas Soucek (£4.9m) and Cole Palmer (£5.0m). Simon Adingra (£5.0m) is a name that has been thrown in, as well, but I just don't trust Roberto De Zerbi, even with limited options at his disposal.
Diaby: Good pick and great fixtures in the short term but the schedule turns a bit from Gameweek 14 onwards. He was playing more centrally a few Gameweeks ago but was a bit wider against West Ham United, operating more in a creative role rather than as a goalscorer. He's still a decent investment given the fixtures and minimal rotation risk.
Mitoma: He would probably be my pick of the aforementioned players. He was rested over the international break and Brighton and Hove Albion have a free midweek between Gameweeks 10 and 11, due to their elimination from the Carabao Cup. So, we should see him start all games till the next international break. However, from Gameweek 13 onwards, the schedule is brutal for Brighton, with no midweeks free between Gameweeks 13 and 17. Gameweek 15, indeed, is a midweek league fixture. Despite limited options, De Zerbi is not afraid to put square pegs in round holes and we could see some rotation around then. I still like him more than Diaby, though, as he is more of a talisman for his side.
Ward-Prowse/Soucek: Ward-Prowse has been playing deeper over the last few matches, with Soucek given more license to get forward, so as it stands it looks like set pieces are going to be the primary source of points for the ex-Southampton man – which is off-putting. Soucek's starts might be under threat, as there have been calls to play Lucas Paqueta (£6.0m) in the no.10 position that Soucek is currently occupying, with Mohammed Kudus (£6.5m) playing on the left. With easier fixtures on the horizon, it might be something that David Moyes experiments with.
Neto/Gordon: Both of these are excellent picks and significantly cheaper than Diaby and Mitoma. Neto is more of a talisman and more secure for starts but plays in a side that is less attacking and scores far fewer goals. Gordon should start more games than not and plays for a side that is currently top of the xG table, but the fixtures do toughen up for Newcastle with games against Arsenal and Chelsea on the horizon. It's worth remembering that they have a very difficult Champions League group, too. I was 55-45 towards Neto last week but after speaking to several Newcastle fans since, I am now reversing that to 60-40 in favour of Gordon.
Palmer: Chelsea's run of fixtures is tough – there's Spurs, Man. City, Newcastle and Brighton over the next six Gameweeks – and I still don't think this Chelsea side are going to score many goals. Penalty-taking duties are of course a huge appeal but he doesn't take any other set pieces, so I would only go for him if money is an issue to squeeze in other big hitters in your team. I would look to find the £0.6m extra for Gordon if possible.
---
Q: Is it worth sacrificing Kieran Trippier to bring in Ollie Watkins, or is Trippier a season-keeper on current form?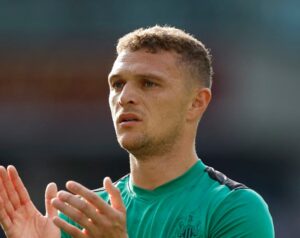 (via FOURLOKOLEIPZIG)
A: I don't think any player is necessarily a season-keeper this campaign, including Haaland. Several FPL managers went without the Norwegian international in their Gameweek 8 Wildcards and it has paid huge dividends so far. I think the theme of the season is to invest in explosive assets ahead of their best fixture runs, as Kieran Trippier (£7.0m) has shown over the last few Gameweeks.
I would argue, though, that Trippier's best fixture run is behind him and Watkins' is just beginning, with matches against Luton, Nottingham Forest, Fulham and Bournemouth in the next five Gameweeks. For this reason, I think you can sacrifice Trippier to afford Watkins. Trippier will still get points but I doubt it will be at the rate we have seen over the last five Gameweeks.
---
Q: Is it time to go 3-4-3 with Erling Haaland, Julian Alvarez and Ollie Watkins?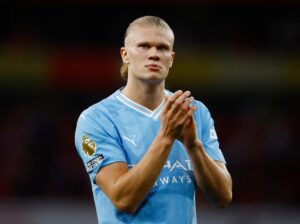 (via THOMAS JEROME NEWTON)
A: I shared a Wildcard draft on the Gameweek 10 pod of the FPL Wire, which you can see below, and it did indeed include Haaland, Julian Alvarez (£7.1m) and Watkins.
I think Alvarez is a better pick than the aforementioned midfield assets such as Mitoma and Diaby and is so explosive on his day. It is worth noting that Manchester City have no midweek fixture prior to the game against Bournemouth in Gameweek 11 and that could be a huge score for the defending champions.
However, there is a caveat with the Argentina international. Man City do have more attacking options available now and Pep Guardiola does have previous for preferring more 'control' in tough away games, so it wouldn't be out of the question to see him opt for Bernardo Silva (£6.3m), Phil Foden (£7.6m) and Jack Grealish (£7.3m) in these matches against Chelsea and Manchester United.
We discuss Wildcard picks, transfer dilemmas and more on this week's episode of the FPL Wire. You can check it out here.