An injury to Pedro Neto (£5.8m) and Mikel Arteta's team selection were among the main Fantasy Premier League (FPL) talking points from Molineux and the Emirates.
Wolverhampton Wanderers v Newcastle United and Arsenal v Sheffield United are the focus of our latest Gameweek 10 summary.
NETO INJURY LATEST
The in-form Wolves midfielder hit the deck in the 75th minute of the two-all draw in the West Midlands, receiving physio treatment and departing on a stretcher a short while later.
The nature of the injury (hamstring) and the manner of his exit would have raised fears about a lengthy absence but Gary O'Neil was relatively upbeat after the game.
"He felt his hamstring and he's moving around a little bit in there. As we all know, there are different levels of hamstring [injury] and we won't know the severity of it until the next few days. We're all hopeful that we don't miss him for very long." – Gary O'Neil on Pedro Neto
The Wolves boss used Joe Hodge's (£4.4m) absence earlier in the campaign as an example of a good-case scenario: the young midfielder was sidelined for around a month with a hamstring injury in that instance, so we may still see Neto red-flagged for a number of Gameweeks.
The Portuguese midfielder had banked yet another assist, his eighth of 2023/24, before his substitution, a 36th-minute corner being headed in by Mario Lemina (£4.9m).
A constant threat on the break, Neto had been bearing down on goal and was about to shoot when his hamstring twanged – so there was a possible haul left behind at Molineux.
CLINICAL HWANG
Neto's injury will very likely deprive him of the chance to face Sheffield United, who have made the worst start to a season in Premier League history, in Gameweek 11.
Owners of the budget midfielder might be tempted by the sideways switch to Hwang Hee-chan (£5.4m), who scored his sixth goal of the season on Saturday evening. Remarkably, no Wolves player has scored more than that in a single campaign since 2019/20.
Above: FPL midfielders sorted by minutes per goal in 2023/24 (a minimum of 500 minutes)
One of the best finishers at the club, Hwang is benefitting from something he never really got in his first two seasons: regular starts.
That said, there are some party-pooping reservations.
Firstly, he's currently scoring with 37.5% of his shots. Even Erling Haaland (£14.0m) didn't do that in 2022/23. No midfielder is exceeding their expected goals (xG) tally more than Hwang.
Secondly, you wonder how much Neto's likely absence will affect Wolves as an attacking unit. O'Neil's troops were in the ascendancy until his injury, which completely took the wind out of the hosts' sails.
And thirdly, Wolves have saved their best for the big clubs this season. There have been fine performances against both Manchester clubs, Liverpool, Aston Villa and now Newcastle. Even in the first half against Brighton and Hove Albion, they were on top. Their worst displays, by contrast, have been reserved for matches against Luton Town, Everton and Bournemouth last week.
Based on this season's evidence, Tottenham Hotspur could be in for a tough test in Gameweek 12.
TIRED-LOOKING NEWCASTLE
Injuries to several key attacking assets might elevate the chances of starts and prolonged game-time for the likes of Anthony Gordon (£5.7m) and Callum Wilson (£7.8m), but Eddie Howe's inability to rotate or bring on fresh legs also means that Newcastle run the risk of tiring in games and becoming less potent as a result.
Of the nine players on the Magpies' bench, two were goalkeepers and five were full-backs. One of the other two, Matt Ritchie (£4.4m), hasn't been used at all in 2023/24 and is pretty much only on the books for his off-the-field influence.
Newcastle were flagging when Hwang danced through to score, the momentum only taken away from Wolves by Neto's untimely injury.
"This is what we want on a regular basis, this is the pinnacle. We're not moaning about it.

"I think the only disappointment for me is the fact we've got a lot of injuries to attacking players and it's limited my options today to change in-running or freshen the players up who may be fatigued. But every player wants to play football, so a lot of the lads will get a lot of football in the next few weeks." – Eddie Howe
Elliot Anderson (£4.4m) and Harvey Barnes (£6.2m) will definitely be unavailable until late December, while Jacob Murphy (£4.8m) now looks set for a long spell out and Alexander Isak (£7.5m) may not be seen before the November international break – so Wilson and Gordon will get a lot of minutes over the next two Gameweeks at least.
"Alex is still where he is. He's aggravated the injury that he suffered in the West Ham game and we'll wait and see whether he'll be fit before the international break. There's probably a high chance that he won't be, but we'll see."
"Jacob we fear might need an operation on his shoulder." – Eddie Howe
Wilson bagged another two goals at Molineux, one from the penalty spot. He's first among regular forwards for minutes per xG and minutes per goal this season, even ahead of Haaland.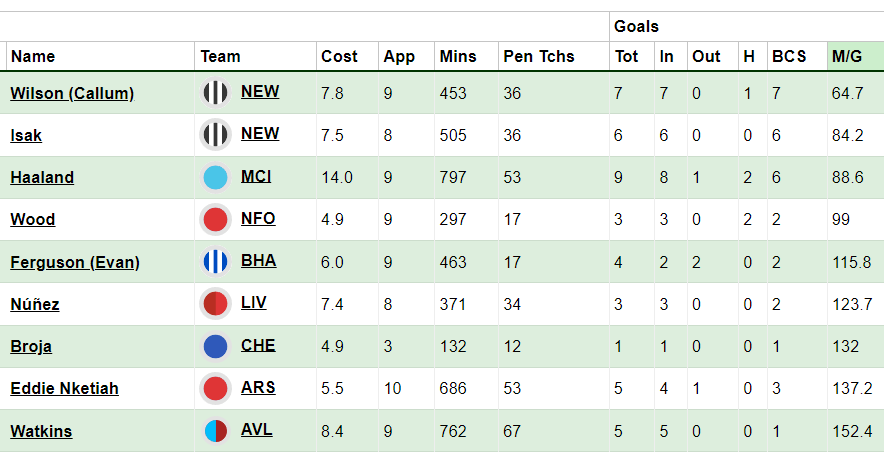 Above: FPL forwards sorted by minutes per goal in 2023/24 (a minimum of one start)
While the stats say Wolves had no 'big chances' and racked up only 0.98 xG, this was an unusually raggedy defensive performance from Newcastle.
Arsenal might be encountering the Magpies at a good time in Gameweek 11, then, with the gas tank close to empty.
GABRIEL BENCHING CLUES?
The once-nailed pair of Martin Odegaard (£8.5m) and Gabriel Magalhaes (£4.8m) found themselves warming the bench on Saturday, missing out on the points bonanza at both ends of the pitch as Arsenal thumped Sheffield United.
Odegaard has been below-par for a while, although Mikel Arteta cited a fitness issue as the primary reason for his starting XI omission.
"Martin has been carrying a little thing that wasn't very comfortable in the games. We have players with enormous quality and we have to trust them. We believe it was the right day to do so." – Mikel Arteta on Martin Odegaard's benching
The benching of Gabriel was a hammer blow to the Brazilian's owners, however, not least because a) he'd been playing well of late and b) arch-nemesis Thomas Partey (£4.8m), whose early-season inclusion at right-back had ramifications for Gabriel's minutes, is injured.
Another line from Arteta on Odegaard might hint at a clue as to why Gabriel was replaced by Jakub Kiwior (£4.3m) in Saturday's team.
"We went through all the minutes that everybody that has played in the last three weeks. Some of them had played an enormous amount of minutes." – Mikel Arteta, when asked about Martin Odegaard's benching
In terms of game-time over the last three weeks (Gameweek 8 onwards), Gabriel and Odegaard had racked up more minutes for club and country than anyone else before Saturday:
| | |
| --- | --- |
| Player | Minutes |
| Gabriel | 450 |
| Odegaard | 406 |
| Rice | 360 |
| Jesus | 357 |
| Zinchenko | 291 |
| Tomiyasu | 290 |
---
Gabriel, indeed, had started the last 14 games for club and country without a break, dating back to early September.
This latest benching may have simply been energy preservation for stiffer tests to come, then – the line-up for next week's trip to Newcastle will likely tell us one way or another.
Even if he does return to the starting XI at that point, his involvement with Brazil in the upcoming international break does mean that another rest could very well happen in the medium term.
NKETIAH HAT-TRICK
Eddie Nketiah (£5.5m) took full advantage of an injury to Gabriel Jesus (£7.9m) to boost his goal tally by three.
This wasn't a scrappy hat-trick, either, the first strike featuring a Bergkampian piece of control and the third a stunning hit from distance.
"To me he is top level. He's started nine out of our ten Premier League games, so that tells you how much we trust him and the importance he has in the team. I'm really happy for him, an academy player to experience a Premier League hat-trick. He needs to enjoy the moment, he fully deserves it, and hopefully there are many more to come." – Mikel Arteta on Eddie Nketiah
A bit of perspective is needed: he hadn't previously scored since Gameweek 3, despite featuring prominently in the first team. Never underestimate how much better one of this season's newly promoted sides makes players look, as evidenced by Raheem Sterling's (£7.0m) hauls.
Nketiah at least does have another of those in the form of Burnley in Gameweek 12 but any appeal is likely to be short term, with Jesus potentially returning thereafter.
Bukayo Saka (£8.6m) kept things ticking over with another assist (and yes, it was an assist in FPL terms), an early withdrawal meaning that he wasn't in the penalty-taking conversation when substitute Fabio Vieira (£5.4m) won and converted a late spot-kick. Penalties dedicated to unborn children are now a thing, just to further muddy the waters when it comes to the long-deserted Arsenal pecking order.
"I was going to take it – I wanted to take it. I always want to get more goals.

"Fabio [Vieira] came to me and he wanted to take it. He won the penalty as well. He's expecting a little one and it was a really good moment for him to get on the scoresheet and dedicate it." – Eddie Nketiah on Arsenal's late penalty
Saka, incidentally, hasn't had a single shot since Gameweek 7.
At the back, Arsenal are now ahead of all other Premier League clubs for clean sheets (five). There should be at least two or three chances to further boost that tally by the time we get to mid-December:

ARCHER BENCHED
To be fair to Sheffield United, this was only really their second pasting of the season.
They even defended quite well for the first half, a lapse for Nketiah's goal one of only two shots on target that Arsenal had.
Their injury list is also the worst in the division, while they've had some horrible fixtures to start the season with.
Three of their next four games are early 'six-pointer' candidates.
On budget asset watch, a number of Fantasy managers' bench fodder defender, George Baldock (£3.8m), made his return from injury as a substitute. We can expect him to return to the starting XI very soon; he's now the cheapest player in the whole of FPL.
Further forward, Cameron Archer (£4.5m) was benched for the first time since his move from Aston Villa. Paul Heckingbottom went with just one striker up top in the form of Rhian Brewster (£4.9m), who was as ineffective as Archer has been of late. Neither player has had much service, in fairness, with the Blades rock bottom for both actual goals scored (seven) and xG (7.56) this season.