Fantasy Football Scout community writer Greyhead returns for the 2023/24 season with his series of Great and The Good articles, analysing the transfers and strategies of some well-known Fantasy Premier League (FPL) managers.
This season's names are the BlackBox pair of Mark Sutherns and Az, Scouts Joe Lepper and Tom Freeman, Scoutcasters Seb Wassell and Andy North, Pro Pundits FPL General, Pras, Zophar and FPL Harry, FPL 'celebrities' LTFPL Andy and Ben Crellin, FPL champion FPL Gunz, Hall of Famers Fabio Borges, Finn Sollie, Jan Kepski and Jon Ballantyne, and last year's mini-league winner Marko Miseric.
---
"Money, money, money. Must be funny. In the rich man's world"
Suddenly, money mattered this week as those using a Wildcard in Gameweek 10 realised the shortage of funds meant that cut-price bargains like Simon Adingra (£5.0m) and Cole Palmer (£5.0m) were on the menu.
However, the real deal was Eddie Nketiah (£5.5m). He delivered a hat-trick for Pras, who is probably in the process of commissioning a bronze statue of the Arsenal frontman for his front garden.
In other news, that bloke Erling Haaland (£14.0m) gave a scare to those daring to use a non-Norwegian meat shield strategy, Mikel Arteta continued to make perfectly good FPL assets disappear without trace and everybody fell in love with Bryan Mbeumo (£6.6m) again – apart from those who benched him. I am looking directly at you Seb!
OVERALL PERFORMANCE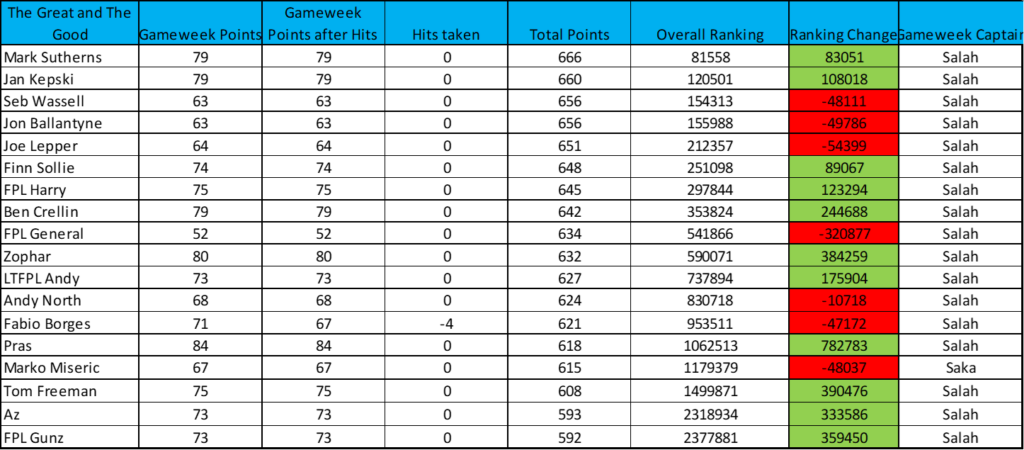 Pras was indeed the top performer this week with 84 points, thanks to a Wildcard that saw him gamble on Nketiah after the injury news surrounding Gabriel Jesus (£7.8m). Whilst some naysayers suggested that Kai Havertz (£7.1m) could threaten minutes, Pras was the one left smiling on Saturday night.
Mark Sutherns returns to the top of the table and is the first of The Great and The Good to hit the top 100k – a measure of how tough it has been this season. He overtook Jon Ballantyne and Seb Wassell, who felt the backlash from being without Haaland. Having made such large gains in the previous rounds, I doubt they're too unhappy.
Sadly, no one put the armband on Erling this week, with the majority going to Mohamed Salah (£12.8m). Then again, Marko Miseric showed a dollop of ingenuity by choosing Bukayo Saka (£8.6m).
WILDCARDS
The Four Horseman of the Wildcard Apocalypse turned up this week as LTFPL Andy, Tom Freeman, Pras and, of course, Mark Sutherns played the mother chip.
Mark Sutherns
The general consensus was that Mark's overhaul was the most appealing due to his vice-like grip on finances this year. It meant he could afford Kieran Trippier (£7.0m) without having to make sacrifices elsewhere.
He made the fewest moves of the lot with just seven trades and it was one that he kept – Moussa Diaby (£6.7m) – who helped him the most this weekend.
IN: Strakosha, Tsimikas, Taylor, Gabriel, Palmer, Saka, Watkins
OUT: Turner, Burn, Gusto, Baldock, Sterling, Maddison, Alvarez
LTFPL Andy
Whilst Mark's Wildcard was just mild tinkering, Andy took a more bullish approach with 11 changes to his squad. The template was mostly followed, with the key difference being his focus on Brighton and Hove Albion via Kaoru Mitoma (£6.5m) and Joao Pedro (£5.3m). It almost felt like a flashback to Gameweek 1.
IN: Areola, Tsimikas, Taylor, Guehi, Gabriel, Palmer, Saka, Mitoma, Salah, Pedro, Watkins
OUT: Pickford, Kabore, Trippier, Schar, Udogie, Rashford, Fernandes, Maddison, Mbeumo, Archer, Alvarez
Pras
The most talked about Wildcard was Pras', as he moved for a certain Arsenal forward who delivered a haul for the FPL Wire co-host.
IN: Areola, Strakosha, Tsimikas, Taylor, Guehi, Gabriel, Cash, Palmer, Saka, Mitoma, Salah, Nketiah, Watkins
OUT: Pickford, Turner, Kabore, Trippier, Dias, Porro, Saliba, Rashford, Gibbs-White, Maddison, Mbeumo, Archer, Alvarez
Tom Freeman
As always, Tom differentiated himself through his fourth midfielder fun, this game punting on Adingra to afford Gabriel Martinelli (£7.7m). He'll be disappointed that the flying winger only managed 65 minutes against the fragile Sheffield United defence.
IN: Strakosha, Tsimikas, Taylor, Guehi, Gabriel, Cash, Adingra, Saka, Martinelli, Salah, Mubama, Watkins
OUT: Onana, Saliba, Tarkowski, Trippier, Schar, Udogie, Rashford, Fernandes, Richarlison, Mbeumo, Archer, Alvarez
TRANSFERS
'Get Saka' was the call from this lot as he was the most popular purchase, with James Maddison (£8.1m) the trendy makeweight. Buying Ollie Watkins (£8.4m) was also seen as a necessity but both of these failed to live up to their billing and it was actually those that moved for Kostas Tsimikas (£4.6m) who were the real top traders.
Perhaps the most shocking news – so please do take a seat – was that Fabio Borges took a hit, with that man Ollie letting him down.
Andy North – Tsimikas, Saka (Porro, Maddison)
Az – Watkins, Adingra (Alvarez, Ward-Prowse)
Ben Crellin – Tsimikas, Saka (Maddison, Dalot)
Fabio Borges – Watkins, Bowen (Morris, Rashford)
Finn Sollie – Gabriel, Tsimikas (Burn, Udogie)
FPL General – Salah, Gordon (Son, Fernandes)
FPL Gunz – none
FPL Harry – Mitoma, Tsimikas (Maddison, Udogie)
Jan Kępski – Tsimikas, Saka (Maddison, Udogie)
Joe Lepper – Saka, Adingra (Neto, Maddison)
Jon Ballantyne – Saka, Gabriel (Robertson, Rashford)
Marko Miseric – Saka, Mitoma (Maddison, Fernandes)
Seb Wassell – Saka (Fernandes)
Zophar – Watkins, Gordon (Alvarez, Mbeumo)
THE GREAT AND THE GOOD TEMPLATE
The full template is below, now in a pretty graphic: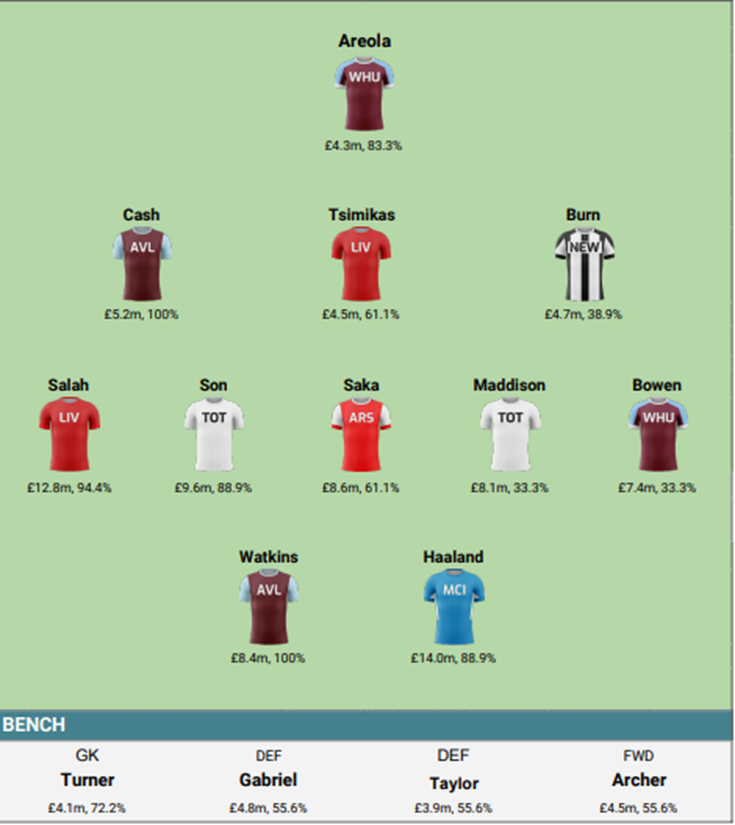 The Gameweek 10 Wildcarders provided a defensive reshuffle to the template. We saw Tsimikas, Gabriel Magalhaes (£4.8m) and free-scoring Charlie Taylor (£3.9m) come in for Trippier, Pedro Porro (£5.2m) and Destiny Udogie (£4.8m). In midfield, Saka and Jarrod Bowen (£7.4m) replaced Bruno Fernandes (£8.3m) and Mbeumo – the latter returned double digits to make a mockery of his exit.
BENCH BOOST
Jam, glorious jam for those who had a decent option – or, in some cases, Taylor – coming off the bench due to Gabriel's latest disappearance. So now is as good a time as any to check on bench depths and autosub jam levels.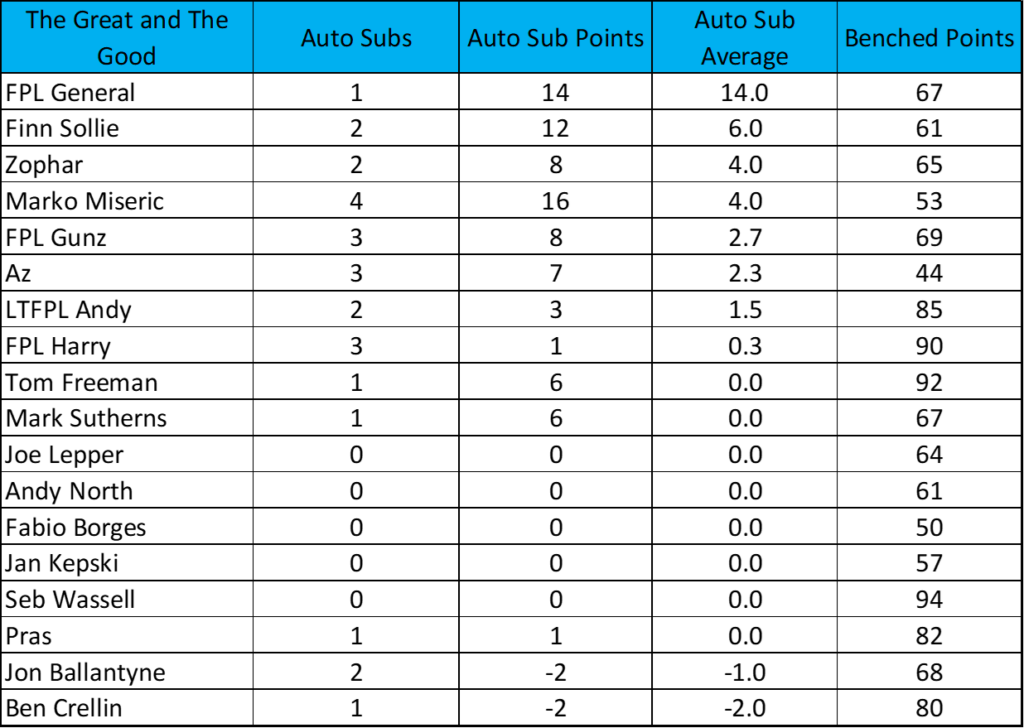 Marko Miseric tops the bill as the manager who has looked to the subs bench for inspiration most often. There are four autosubs to his name and a decent average of four points per replacement.
However, FPL General tops the averages, having only once called to the pine, receiving Malo Gusto's (£4.2m) 14-point haul in Gameweek 3. Happier times.
Seb Wassell has the largest number of benched points, leaving 94 on the sidelines so far, the latest being Mbeumo. This may stir the Scoutcaster into having a longer ponder next time over who makes each week's final XI.
Overall, though, there have been fewer autosubs than usual this season, although we're about to hit the peak period for rotation so maybe it is time to build up those reserves – something for Az to consider as he has the lowest number of benched points to date, suggesting he hasn't given squad depth too much thought.
CONCLUSION
A week where those who went without Haaland suffered a bit. No doubt their heart rates will take a few extra beats when seeing he is at home to Bournemouth next.
As always, if you want to dig further into the data, have a read of the Mini-League Mate dossier. Under 'Join an existing league', just enter your name and email address alongside the league code MLM0001. It's all free!
Anyway, that's all from me for now, but remember – don't have FPL nightmares.
For those affected by any of the topics raised above, you can find me here on Twitter.