In the latest article from our team of Hall of Famers and guest contributors, FPL General reflects on Gameweek 10 and reveals his big team decisions heading into Gameweek 11 – including whether or not to hold on to the Wildcard.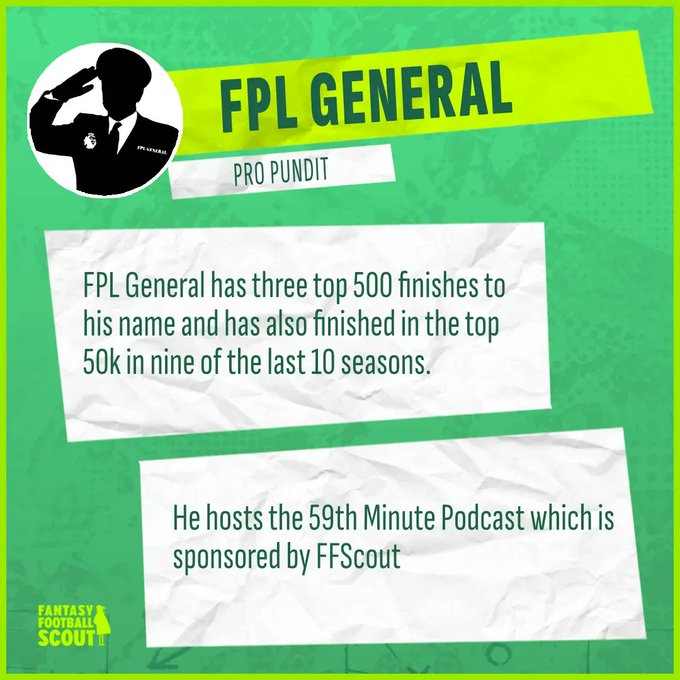 ---
GAMEWEEK 10 REVIEW
The week that follows a big fat red arrow always seems to go extremely slowly! Gameweek 11 can't come quick enough after a disappointing Gameweek 10. I used two free transfers to bring in captain Mohamed Salah (£12.8m) and budget enabler Anthony Gordon (£5.7m) in place of Son Heung-min (£9.6m) and Bruno Fernandes (£8.3m). Losing the in-form, out-of-position Son was one of those uncomfortable moves that we're going to have to get used to making this season with so many good picks available. It hurt to see him score on Friday night but Salah delivered to soften the blow. I want Son back already!
The key factor in the decision was the captaincy. I didn't see myself giving Son the armband at any point over the next few weeks whereas Salah is a prime captaincy candidate in most Gameweeks, with Liverpool having great fixtures. Owning both players is, of course, the ideal scenario.
The defence was on course for five zero-pointers until Matty Cash (£5.2m) spoiled the party with his banked clean sheet. I'm not even going to talk about Gabriel Magalhaes (£4.8m) here. I no longer view Kieran Trippier (£7.0m) as a must-have with Newcastle's fixtures now taking a turn for the worse. Unlocking his funds to beef up the midfield is something that I'm considering.
Fielding 10 players wasn't ideal, either, and improving the bench is something I need to address soon. The likes of Jamaal Lascelles (£4.0m), Jarrad Branthwaite (£4.0m) and Charlie Taylor (£3.9m) are on the radar.
Midfielders Jarrod Bowen (£7.4m) and Gordon blanked but both players are fine to keep. Bowen has Brentford (away), Nottingham Forest (home) and Burnley (away) in the next three. It was encouraging to see him score in the cup game midweek, as well as play up top. I'd rather have Bryan Mbeumo (£6.7m) or Moussa Diaby (£6.8m) in the Gordon spot but that switch can wait as it would require a -4 or Wildcard activation this week.
Ollie Watkins (£8.4m) and Julian Alvarez (£7.2m) failed to deliver up front but they've both got great fixtures in Gameweek 11. Watkins is likely to be a long-term hold whereas Alvarez may go in Gameweek 12 to facilitate other moves.
Scoring just 52 points resulted in a rank drop from 220k to 541k. Painful. A visit to livefpl.net made me feel better, though, as there are only about six or seven points needed to climb 100k places at this stage. At 541k, managers ranked at 1m overall are just 14 points behind me. That's nothing. It's a Mbeumo haul.
I like to set small targets in FPL. Now, it's getting back inside the top 500k, then the top 100k by Christmas. After that, if you offered me another top 50k finish right now, I'd snap your hand off for it.
Gameweek 11 Team + Transfer Plans
Best of luck for Gameweek 11, everyone, and have a great weekend.
There will be a new 59th Minute Podcast on Friday after the pressers and check out this week's 'General's Orders' video below, or on the Fantasy Football Scout YouTube channel, if you haven't already!