Fantasy Football Scout community writer Greyhead returns for the 2023/24 season with his series of articles analysing the transfers and strategies of some well-known Fantasy Premier League (FPL) managers.
The Great and The Good this season are the BlackBox pair of Mark Sutherns and Az, Scouts Joe Lepper and Tom Freeman, Scoutcasters Seb Wassell and Andy North, Pro Pundits FPL General, Pras, Zophar and FPL Harry, FPL 'celebrities' LTFPL Andy and Ben Crellin, FPL champion FPL Gunz, Hall of Famers Fabio Borges, Finn Sollie, Jan Kepski and Jon Ballantyne, and last year's mini-league winner Marko Miseric.
---
"It's a heartache, nothing more than a heartache"
What just happened? It was all so simple, Mohamed Salah (£12.9m) and Erling Haaland (£14.0m) were going to go goal crazy, the Aston Villa lads would probably join in the fun and then to finish off a Son Heung-min (£9.6m) haul before a celebratory cuppa and cakes at Mrs Green Arrow's Tea Room to finish off the Gameweek.
Except, FPL doesn't work like that. Instead, we had Haaland hauled off at half-time, Salah snuffed out by – checks notes – Luton and then a mad game on Monday where Spurs thought it would be high jinks to play with nine, which coincidentally was considered the average FPL score at one point during the weekend.
Oh, and to cap things off, one of the top scoring players was Tyrick Mitchell (£4.6m) who only one of The Great and The Good owned, Andy North. No, really.
OVERALL PERFORMANCE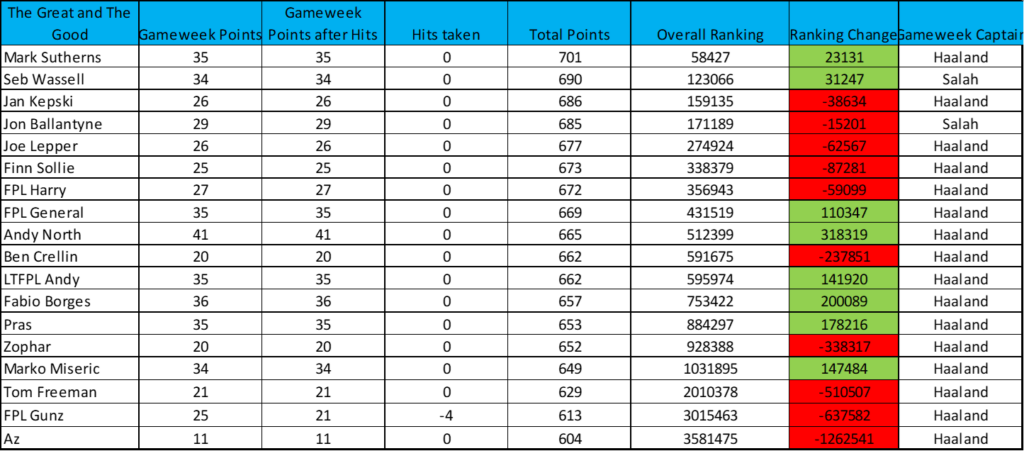 Yes, it was truly an end-of-days type Gameweek as our top scorer was Andy with 41 points, that's some 30 points better than someone else in The Great and The Good but more of that later. This took the Scoutcast co-host up to 512,000 and he is on quite the run having been at 2.8m before activating his Wildcard.
Mark Sutherns stays top thanks to a score of 35 driven by Cole Palmer (£5.0m) and that is the Blackbox host's fourth green arrow in a row. His place at the summit is being challenged by the three newcomers to the league this year, Jan Kepski, Seb Wassell and Jon Ballantyne – the latter two who are on a no-Haaland strategy.
Seb and Jon were the only ones to go Mo this week, but despite the pre-Gameweek hype they had little to celebrate over at the Erling fan club. Talking of different strategies, it's interesting to note that in mid-table lurk FPL General and Fabio Borges who have yet to play their Wildcards – will the tortoises overtake the hares?
Okay, I have to mention it, so Az if you are reading, now is the time to look away. The poor lad only managed 11 points this week, yes 11 and was the victim of some spectacular bad luck as Destiny Udogie (£4.8m) made the pitch but then left it very quickly leaving with him a nasty minus four points. At least it can't get any worse for Az, well apart from his co-host Mark being top and his rival Andy North being top scorer. Thoughts and prayers.
TRANSFERS
A collective cry of "hold" when it came to transfers this week, as most took time to gather their thoughts. For those who did make a move, it was in the direction of Greece. However, Kostas Tsimikas (£4.6m) decided he needed a little rest so even that didn't work out.
Well done to FPL Gunz for trying to inject some excitement as he took a minus four to bring in Phil Foden (£7.5m), Marc Guehi (£4.6m) and Simon Adingra (£5.0m). It was certainly a move to attack the fixtures, but in the end, it only netted him a one-point gain.
Az – Tsimikas (Botman)
FPL General – Tsimikas (Trippier)
FPL Gunz – Guehi, Foden, Adingra (Schar, Almiron, Neto)
Jon Ballantyne – Tsimikas (Burn)
Joe Lepper – Tsimikas (Burn)
Seb Wassell – Tsimikas (Burn)
Zophar – Tsimikas (Schar)
THE GREAT AND THE GOOD TEMPLATE
A mere tremor in this week's must-haves with Guehi coming in for Dan Burn (£4.7m)…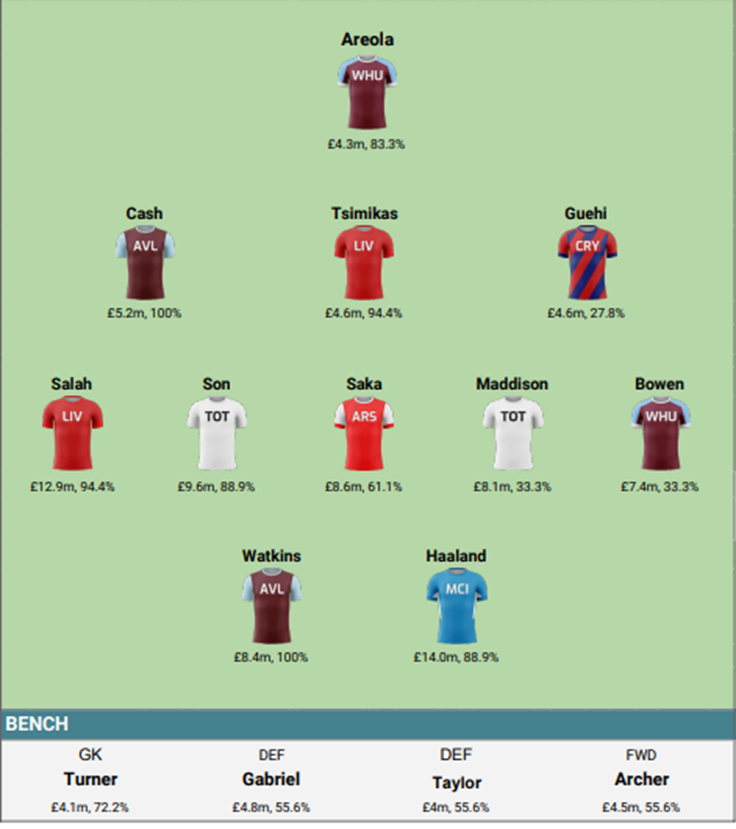 FOLLOWING THE CROWD
There has been a growing sense of doppelgänger syndrome about our FPL teams over recent weeks, with us all seemingly cheering on the same small pool of players, so an opportune moment to check on the template rating of our teams.
The majority of the teams can be considered moderately template. Thank goodness for Seb Wassell who is our resident rebel with a template rating of just 64%. Next, he'll be going without Haaland – oh, he already has.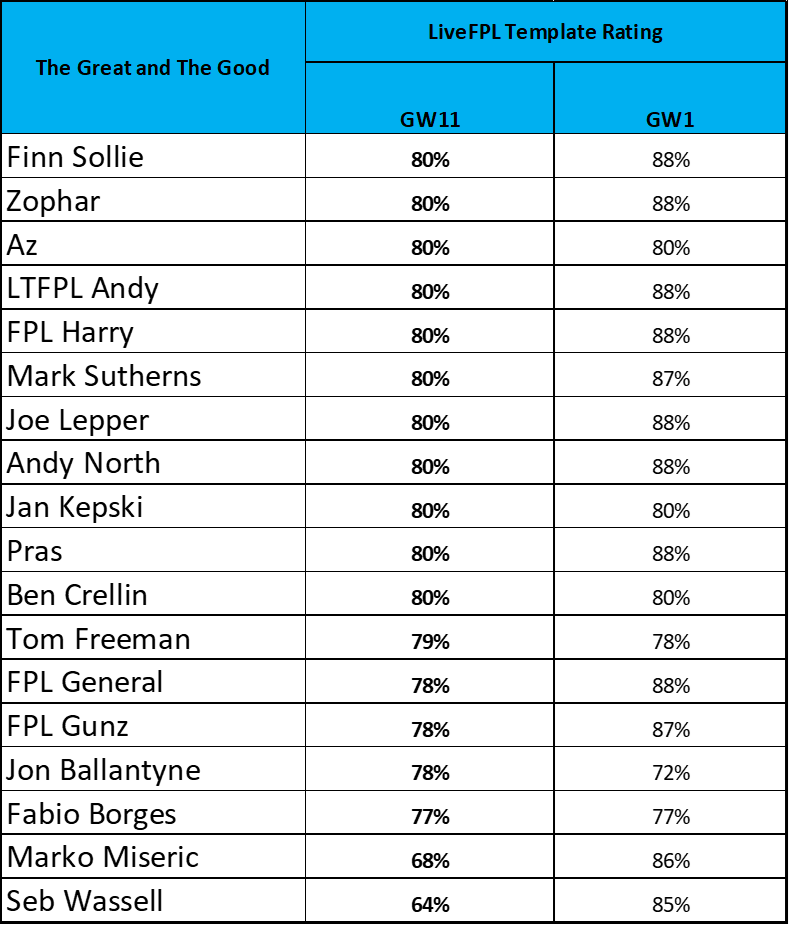 The data and classifications are pulled from LiveFPL.
The similarity between our teams perhaps explains why it is still so tight in the rankings. There are only 16 points between 1 million and 500,000 and 28 points separating the half million mark and 100,000.
CONCLUSION
Surely, things can only get better next weekend? Always the best advice is to sit back and reflect, before losing all self-control and taking a minus 4 to bring in Jeremy Doku (£6.6m).
Whatever your approach, do remember it's only a game and at least you have the comfort of knowing that we are all suffering together. There is someone else probably worse off than you, well unless you are Az.
As always if you want to dig further into the data then do have a read of the Mini-League Mate dossier. Click here https://www.minileaguemate.com/membership and under 'Join an existing league' enter your name and email together with league code MLM0001. It's all free!
Anyway, that's all from me, and remember don't have FPL nightmares.
For those affected by any of the topics raised in the above article then you can find me here on Twitter at https://twitter.com/Greyhead19