A total of eight Premier League clubs were in midweek European competitions, with mixed results.
We'll bring you up to speed with all you need to know from a Fantasy Premier League (FPL) perspective, from minutes played to any wider talking points.
READ MORE: FPL Gameweek 12 team news: Friday's live injury updates
---
INJURY NEWS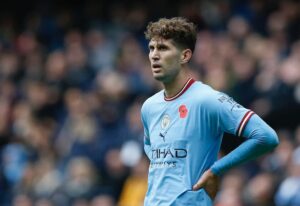 These sides added a few flags to FPL over the last few days.
A separate piece covers the latest live team news for Gameweek 12 but, if you're looking for a quick round-up of what's new, these players were freshly flagged following their group stage games having either missed out or come off with an injury:
Bukayo Saka – Arsenal – knock (75% status)
Eddie Nketiah – Arsenal – knock (75% status)
Martin Odegaard – Arsenal – hip (75% status)
Virgil van Dijk – Liverpool – illness (75% status)
Ryan Gravenberch – Liverpool – knee (50% status)
Callum Wilson – Newcastle United – hamstring (75% status)
John Stones – Manchester City – muscle (25% status)
Manuel Akanji – Manchester City – back (75% status)
Jonny Evans – Manchester United – muscle (75% status)
Pervis Estupinian – Brighton and Hove Albion – muscle (75% status)
Lewis Dunk – Brighton and Hove Albion – muscle (75% status)
James Milner – Brighton and Hove Albion – muscle (75% status)
Tariq Lamptey – Brighton and Hove Albion – muscle (0% status)
Diego Carlos – Aston Villa – muscle (75% status)
---
TEAM SELECTION/ROTATION
Team
Starting XI
changes
from GW11
Key players who
kept their places
(mins played)
Other mins for
players
Unused players
of interest
Arsenal
1
Gabriel (90)
Saliba (90)
White (90)
Raya (90)
Havertz (90)
Saka (85)
Martinelli (81)
Rice (90)
Trossard (81)
Zinchenko (45)
Tomiyasu (45)
Odegaard
Nketiah
Aston Villa
4
Watkins (90)
Digne (90)
McGinn (90)
Diaby (74)
Konsa (74)
Martinez (90)
Cash (16)
Douglas Luiz (16)
Pau Torres (1)
Brighton
3
Mitoma (90)
Adingra (90)
Gross (90)
Verbruggen (90)
Dunk (45)
Joao Pedro (90)
van Hecke (90)
Fati (65)
Ferguson (25)
Estupinan (12)
Liverpool
9
Gomez (90)
Mac Allister (90)
Luis Diaz (81)
Salah (45)
Tsimikas (45)
Alexander-Arnold (45)
Szoboszlai (45)
Darwin (17)
Alisson
van Dijk
Man City
6
Ederson (90)
Haaland (61)
Walker (61)
Stones (45)
Dias (90)
Gvardiol (90)
Foden (90)
Grealish (90)
Ake (45)
Doku (10)
Alvarez
Rodri
Akanji
Bernardo
Man United
1
Fernandes (90)
Maguire (90)
Onana (90)
Dalot (90)
Hojlund (84)
Wan-Bissaka (90)
McTominay (90)
Varane (75)
Rashford (42)
Mount (6)
Reguilon
Antony
Newcastle
3
Trippier (90)
Schar (90)
Lascelles (90)
Pope (90)
Wilson (45)
Guimaraes (90)
Joelinton (90)
Livramento (90)
Gordon (45)
Almiron (45)
West Ham
3
Bowen (90)
Ward-Prowse (90)
Coufal (90)
Aguerd (90)
Emerson (90)
Fabianski (90)
Paqueta (90)
Kudus (89)
Soucek (10)
Areola
Zouma
Antonio
---
KEY EUROPEAN NOTES FOR FPL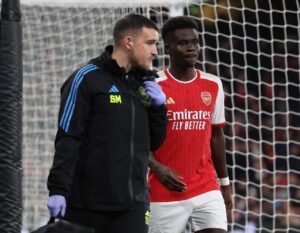 SAKA LIMPED OFF
After setting up Leandro Trossard's (£6.5m) goal and netting one himself, highly-owned Arsenal midfielder Bukayo Saka (£8.6m) had to depart in the 85th minute. He'd been kicked all night by Sevilla players but an awkward fall was the final straw, immediately making FPL managers worry about his status for Saturday's home clash with Burnley.
"It was just a kick and I was told by the physios on the radio that he wasn't happy to continue so he will have some discomfort but hopefully, I want to assume that he will be ok." – Mikel Arteta
His boss will hopefully add more in Friday afternoon's press conference, while Eddie Nketiah (£5.7m) and Martin Odegaard (£8.4m) updates would also be appreciated after their Tuesday absence.
Trossard for Nketiah up top was Mikel Arteta's only change from the 1-0 defeat at Newcastle. Gabriel Magalhaes (£4.8m), William Saliba (£5.3m) and Ben White (£5.7m) all played 90 minutes.
MAN CITY QUALIFY BUT STONES IS HURT
The yellow flag placed on Erling Haaland (£14.0m) following his half-time removal versus Bournemouth was comprehensively removed with two goals in 61 minutes at home to Young Boys.
Yet John Stones (£5.3m) – only recently back from a hip injury – came off at half-time to put Man City "in trouble", according to Pep Guardiola.
"John felt it again. I feel so sorry for him. It's a big loss for us. John is so important for what he does. But recover and the season is long; he will be back stronger. I think he will be out for a while." – Pep Guardiola
It followed the last-minute switch forced by Manuel Akanji (£4.9m) hurting his back when warming up. Kyle Walker (£5.3m) had to step in and start the comfortable 3-0 win, one which means City have secured their place in the next round with two games to go.
Although Guardiola wants first place, expect rotation during both remaining outings. That should be good news for the owners of Julian Alvarez (£7.2m), who was completely unused here.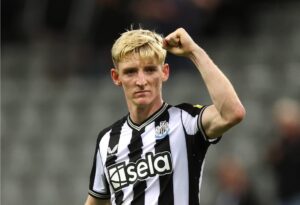 WILSON A DOUBT, GORDON COULD GO UP FRONT
Adding to Newcastle's Champions League woes is an eternally-growing injury list. Forward Callum Wilson (£7.9m) has started every game of late thanks to Alexander Isak's (£7.4m) groin problem but Wilson himself had to depart at half-time in Dortmund.
"Callum has a tight hamstring. We are doing various tests on him, we will see how he does this morning before making a decision on the game. Other than that, we have no fresh injuries from the other night." – Eddie Howe
It'll be a tight call for Eddie Howe ahead of the Magpies' trip to Bournemouth. If Wilson can't make it, FPL midfielder Anthony Gordon (£5.7m) will likely be used as a forward.
WILL LIVRAMENTO BE USED IN ATTACK?
Gordon's minutes were managed on Tuesday, with plenty of games and so few players at Howe's disposal. Both he and Miguel Almiron (£6.3m) started on the midweek bench, allowing young full-back Tino Livramento (£4.3m) to be used as a winger.
His minutes are beginning to increase and he's looked brilliant during each appearance. Could Livramento offer some more out-of-position potential for the Bournemouth trip?
"He played really well again. Played really well on the right side, played really well on the left side, so that's great to see. His versatility and his athleticism I thought was one of the standouts for us." – Eddie Howe
We've already looked into how Newcastle might line up without Dan Burn (£4.7m), Sven Botman (£4.6m) and Matt Targett (£4.3m). Livramento isn't completely nailed to start, as there's likely one defensive spot for him and Lewis Hall (£4.3m) to fight over. But if Howe opts to again use him higher up, the 20-year-old offers serious value.
NO CLEARER ON WHETHER TSIMIKAS WILL START
Over a million FPL managers have bought Kostas Tsimikas (£4.6m) since Andrew Robertson (£6.4m) suffered a shoulder injury. Naturally, it didn't take long for him to become a rotation risk, with Joe Gomez (£4.5m) favoured for Liverpool's draw at Luton Town.
Both he and Gomez started on Thursday night in Toulouse, making it unclear what Jurgen Klopp plans for Brentford's upcoming visit. However, Tsimikas was at fault for the opening goal and he was swiftly taken off – that won't increase confidence in a Sunday start.
"Virgil [van Dijk] is a little bit ill. It will not be a big thing but we did not want to have him on the plane, if some others have it as well. I have it a little bit but for me, it is not a problem, that's why we left him at home. He should be absolutely alright for the weekend." – Jurgen Klopp
The Greek international was part of three half-time substitutions that gave 45 minutes to Mohamed Salah (£12.9m), Trent Alexander-Arnold (£7.9m) and Dominik Szoboszlai (£7.1m). But captain Virgil van Dijk (£6.1m) missed out with illness.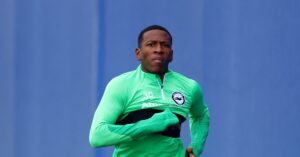 ESTUPINAN'S RETURN CUT SHORT BY ANOTHER INJURY
With Brighton about to host Sheffield United in a week where several well-owned defenders have become unavailable, eyes were starting to be laid upon a possible return for attacking left-back Pervis Estupinan (£5.0m).
Although the Seagulls are yet to keep a Premier League clean sheet, the Ecuadorian provided four attacking returns from his five full matches. Unfortunately, he came on and already needed replacing after 12 minutes.
"I think they are not so important injuries, I hope." – Roberto De Zerbi
Even though Roberto De Zerbi isn't too concerned with either his, Lewis Dunk's (£5.0m) or James Milner's (£4.8m) injuries, it certainly dents Estupinan's chances of starting against the Blades.
Both Kaoru Mitoma (£6.5m) and Simon Adingra (£5.0m) played all 90 minutes of the win at Ajax, with the latter scoring and assisting.
A rest for Evan Ferguson (£6.0m) certainly raises his game-time prospects in Gameweek 12.
CASH CAMEO
Like Haaland, there is good news for Matty Cash (£5.2m) owners. He also left weekend proceedings early with a knock but came on to play 16 minutes versus AZ Alkmaar in the Europa Conference League. Douglas Luiz (£5.6m) entered at the same time.
Ollie Watkins (£8.4m) secured Aston Villa's comeback victory, playing the whole match whilst Mohamed Diaby (£6.8m) banked 74 minutes.