Fantasy Football Scout community writer Greyhead returns for the 2023/24 season with his series of Great and The Good articles, analysing the transfers and strategies of some well-known Fantasy Premier League (FPL) managers.
This season's names are the BlackBox pair of Mark Sutherns and Az, Scouts Joe Lepper and Tom Freeman, Scoutcasters Seb Wassell and Andy North, Pro Pundits FPL General, Pras, Zophar and FPL Harry, FPL 'celebrities' LTFPL Andy and Ben Crellin, FPL champion FPL Gunz, Hall of Famers Fabio Borges, Finn Sollie, Jan Kepski and Jon Ballantyne, and last year's mini-league winner Marko Miseric.
---
"Doh!"
It was a weekend which saw many of us slap our heads when it came to FPL. Whether you transferred out or benched Konstantinos Tsimikas' (£4.6m) double-digit return, swapped out Bukayo Saka (£8.6m) after another 'injury' scare or, worse still, accidentally hit the Bench Boost button – nah, no one would be daft enough to do the last one.
The build-up had seen the majority of Gameweek 10 Wildcarders at a loss on who to trade, with some even considering burning a move before Dan became the Burn transfer after his injury. The rest had to join Ange Postecoglou in finding ways to replace James Maddison's (£7.9m) creativity.
OVERALL PERFORMANCE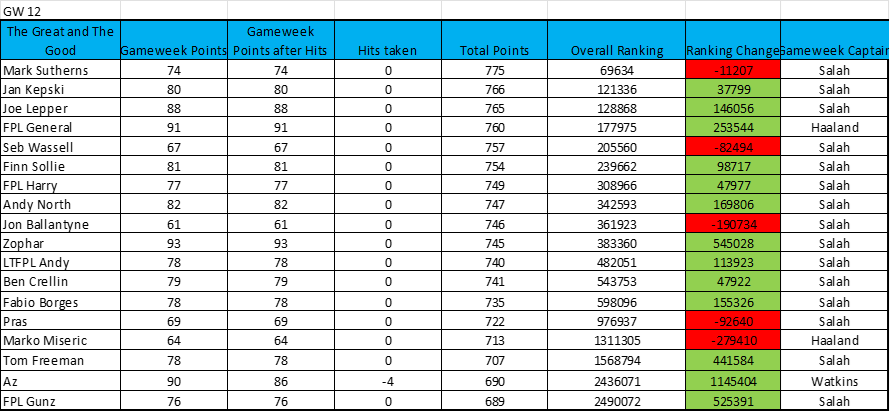 Zophar was the week's leading scorer as he and FPL General were amongst the few who started the Greek full-back. He also possessed the Mohamed Salah (£13.0m) and Erling Haaland (£14.0m) one-two punch and benefitted from Moussa Diaby's (£6.8m) phantom assist, alongside a more honestly earned Pedro Porro (£5.2m) return.
It was a Greek tragedy when it came to the others, with over 50% of him benching Tsimikas' 15 points. However, one manager still received such points despite sending him to the pine, as Az mistakenly activated his Bench Boost.
Yes, despite being an FPL expert – the Daily Star's words, not myself – Az didn't notice the change in colour to his substitutes bench and so rolled the dice in a single Gameweek. Yet Lady Luck at last paid a visit to the BlackBox bunker and dished out 18 points – only four less than what it brought him last year during a Double Gameweek. He also gained over one million places, so maybe it wasn't that daft after all.
Perhaps Seb Wassell should take the same approach, as his last three weeks have averaged just under 20 points on his bench. That's 137 points so far this season.
However, Seb – joining Jon Ballantyne as Haaland haters – suffered a red arrow as a result of not having the Norwegian.
When it came to captaincy, the majority chose Salah. Az went wild on Ollie Watkins (£8.4m) and FPL General continued his obsessive path with Haaland. It's now 11 out of 12 weeks where he's been handed the armband.
Amidst all this, Mark Sutherns stays top but he should be aware of a threat from the new kid on the block, Jan Kepski, plus the old dog in the pound Joe Lepper, who both made up ground.
TRANSFERS
Nobody covered themselves in glory this week when it came to transfers. It was actually Andy North's move for Harry Maguire (£4.3m) that produced the best immediate results.
Those who transferred out Tsimikas will have a few regrets – even those who brought in Jamaal Lascelles (£4.1m) will have doubts now that Sven Botman (£4.6m) is back on grass. It's also interesting to note that Fabio Borges bought Alphonse Areola (£4.3m) just when many are beginning to lose faith in his ability to keep a clean sheet.
Andy LTFPL – Saliba, Archer (Tsimikas, Joao Pedro)
Andy North – Maguire (Burn)
Az – Saka, Livramento (Maddison, Udogie)
Ben Crellin – Gabriel (Burn)
Fabio Borges – Areola (Flekken)
Finn Sollie – Saka, Baldock (Maddison, Tsimikas)
FPL General – Son (Maddison)
FPL Gunz – none
FPL Harry – Livramento (Burn)
Jan Kępski – Gabriel (Burn)
Joe Lepper – none
Jon Ballantyne – Martinelli (Maddison)
Mark Sutherns – Lascelles (Taylor)
Marko Miseric – Eze (Elanga)
Pras – Livramento (Tsimikas)
Seb Wassell – Fernandes, Gabriel (Maddison, Cash)
Tom Freeman – Livramento (Tsimikas)
Zophar – Saka (Maddison)
THE GREAT AND THE GOOD TEMPLATE
A cheeky glance at the template shows just one change, as Bryan Mbeumo (£6.8m) comes in for the injured Maddison. I suspect that place will be cemented by Brentford's strong fixture run from Gameweek 14.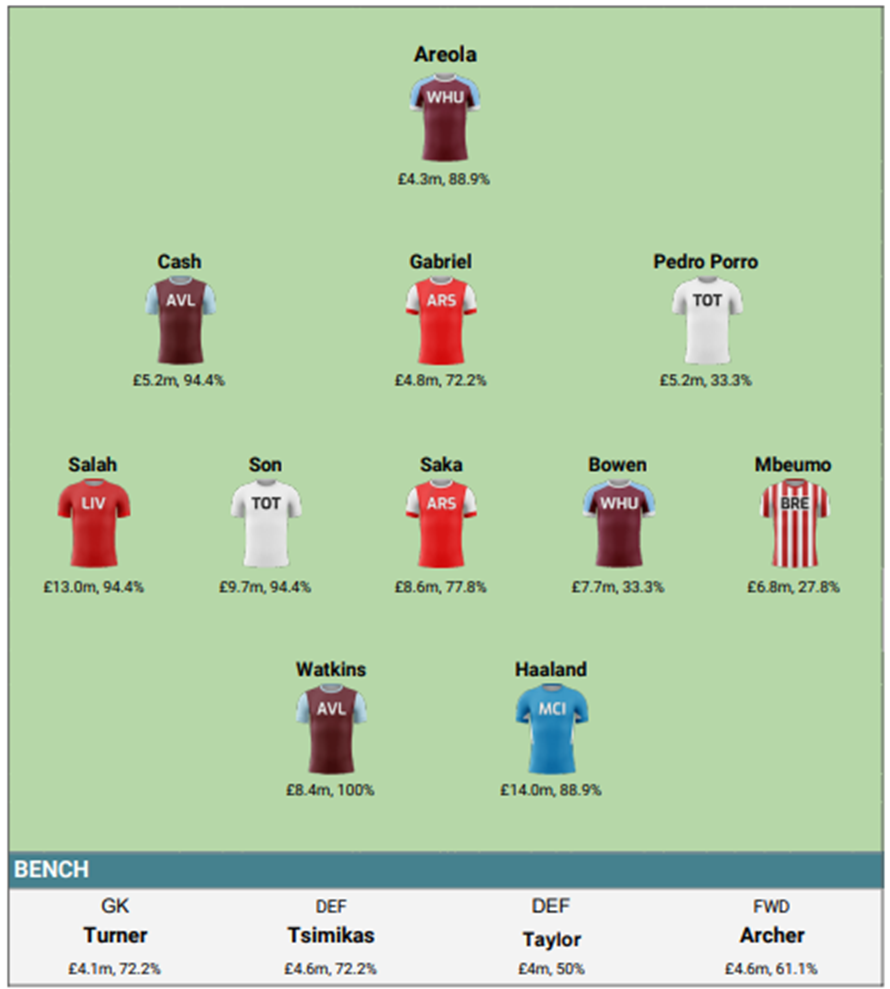 TRADING TRIUMPHS
Time to delve into where The Great and The Good are focussing their transfers across their squads.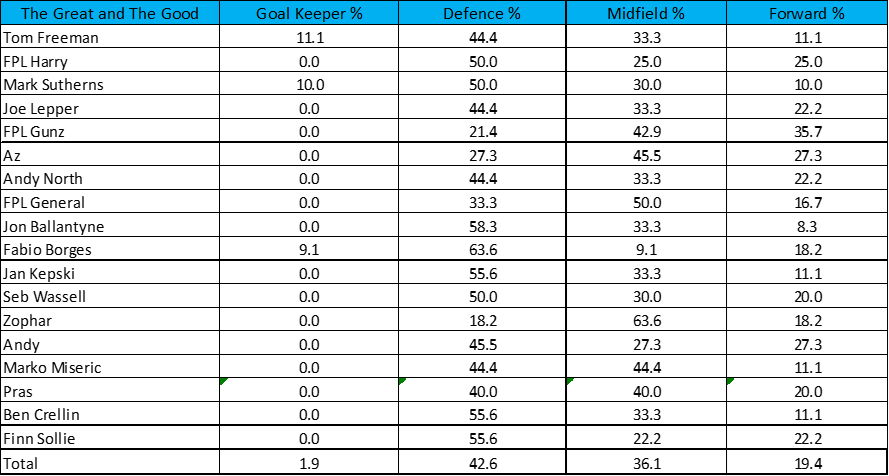 We have seen plenty of defensive reshuffles, which makes sense as the midfield and forward positions have felt pretty template throughout. Getting the right backline feels key towards any success in a season where ranks remain tight.
Fabio has made the most moves in defence and has pretty much left his midfield alone, staunchly refusing to bring in Saka. He mustn't be a fan of Mikel Arteta's 'will he, won't he' party trick.
FPL Gunz can't seem to decide on a forward line, as he has had Nicolas Jackson (£6.8m), Joao Pedro (£5.3m), Callum Wilson (£7.9m), Dominic Calvert-Lewin (£5.8m), Darwin Nunez (£7.5m) and Watkins all audition to be Haaland's strike partner.
CONCLUSION
So it's a two-week break now, before what looks on paper to be a horrible Gameweek 13. There will be an urge to tinker after a tough couple of rounds but maybe, if this last weekend has taught us anything, then it is sometimes best to leave our squad alone.
As always, if you want to dig further into the data, have a read of the Mini-League Mate dossier. Under 'Join an existing league', just enter your name and email address alongside the league code MLM0001. It's all free!
Anyway, that's all from me for now, but remember – don't have FPL nightmares.
For those affected by any of the topics raised above, you can find me here on Twitter.