Our team of Hall of Famers and guest writers will provide Fantasy Premier League (FPL) tips and advice throughout 2023/24. Here, two-time Indian FPL champion Lateriser continues his festive preparation by seeking reliable starters that dominate their team's attacking expected goals (xG) output.
Our writers will be providing regular articles and team reveals throughout the new season, with only Premium Members able to access every single one.
You can sign up here. Once you're aboard, you've locked in the price of your Premium Membership for good, so long as you don't cancel!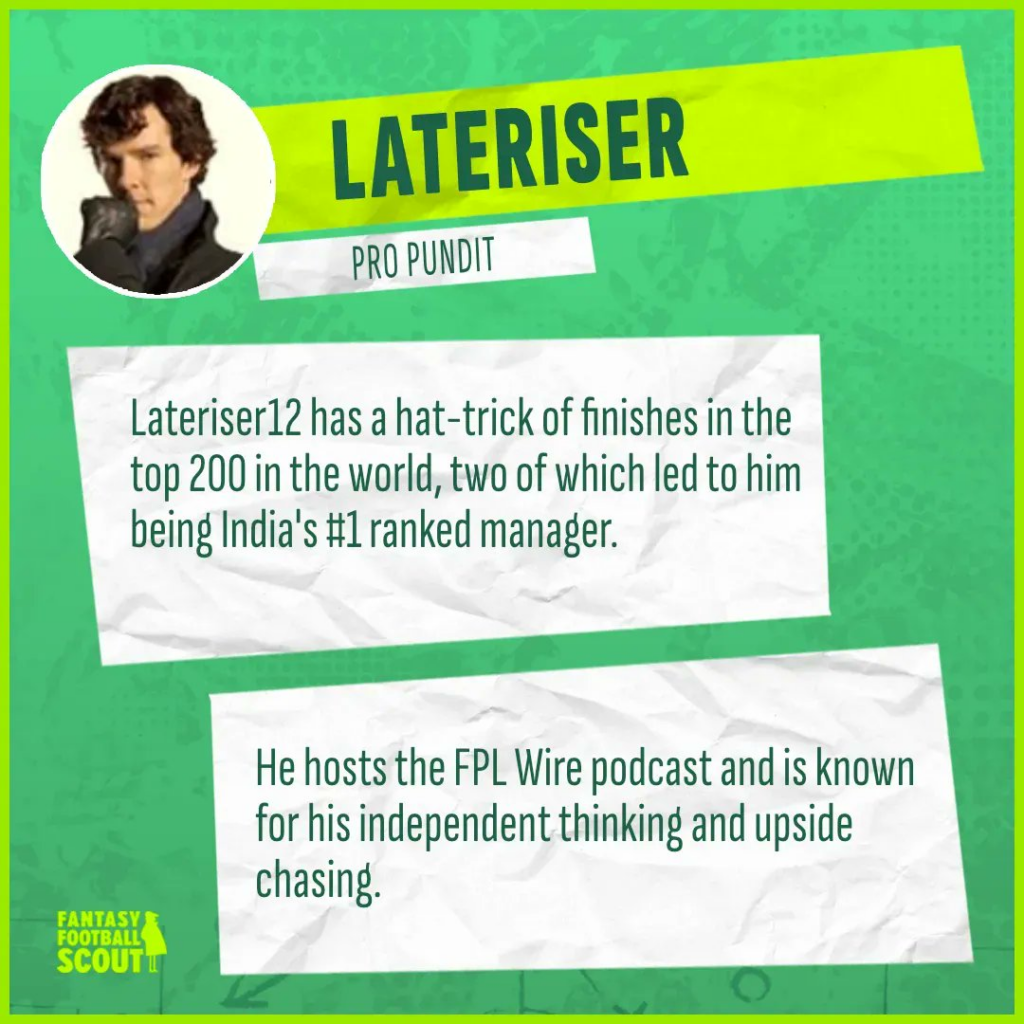 ---
We're approaching a crucial FPL period, with many factors in play as we navigate through the festive fixture congestion. My fellow Pro Pundit Zophar did a great job at scrutinising the schedule.
I want to cover the important factors to consider over the coming weeks, ones that could affect your decision-making in some way.
KEEP VILLA DURING TOUGH RUN?
First up, I want to touch upon Aston Villa. Ollie Watkins (£8.5m), Matty Cash (£5.2m) and Moussa Diaby (£6.8m) are all fairly highly-owned assets. They have two consecutive games on the road, with the difference between home and away performances so far being very significant.
That said, both opponents are in the lower half of the table for expected goals conceded (xGC) and Spurs are without their best centre-backs, plus Yves Bissouma (£5.0m) and James Maddison (£7.9m).
Then it's Manchester City and Arsenal – two of the league's top five defences – but both games are at home, where Villa have won their last 13. Watkins has a decent record against the 'big six' which is worth holding onto and, afterwards, the fixtures vastly improve.
They host Sheffield United in Blank Gameweek 18 to provide one of the best captaincy options. Holding onto two or three Villa assets throughout the tougher fixtures might pay dividends in the long run.

Another factor to consider is that, between Gameweeks 14 and 16, Villa have a Sunday-Wednesday-Saturday turnaround. It's compounded by them having a Thursday night Europa League game just before. The one comforting thing is that three out of these four are at home and – given that the latter outings are against two of the best teams – Unai Emery should keep fielding his first-choice players.
Having said that, Diaby's limited minutes saw an early removal in Gameweek 12, making me wary of his expected minutes. Given these factors and Villa's strong run after Gameweek 16, I'm inclined to think that holding a nailed asset like Watkins is fine but you could consider selling Cash and Diaby. Especially with nailed-on and possibly penalty-taking midfielders like Jarrod Bowen (£7.7m), Bryan Mbeumo (£6.8m) and Cole Palmer (£5.2m) available.
TALISMAN MBEUMO
Although Brentford's Mbeumo has Blank Gameweek 18, his fixtures from Gameweeks 14 to 17 are as good as it gets. Luton Town and Sheffield United are the two teams with the worst xGC, whilst Brighton and Hove Albion and Aston Villa use high defensive lines that are tailor-made for him.
Secure, talismanic assets with high expected minutes will be very important during this next phase and Mbuemo will likely get all matches, having not yet been taken off. That is like gold dust.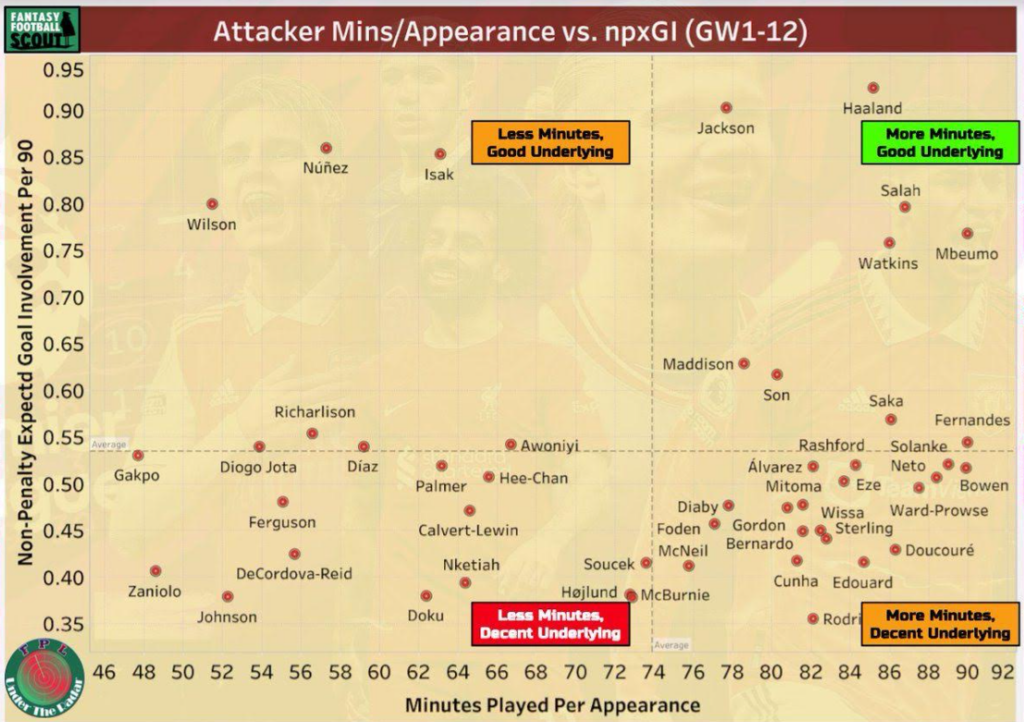 This chart above from @RadarFPL is something you need to pay close attention to. Of course, it helps that two picks that we've already spoken about – Watkins and Mbeumo – are on the extreme right and are just the kind of players we should be targeting. Those with good underlying numbers and high expected minutes.
When it comes to Mbeumo, some of us still have to realise how much he's improved this season. Furthermore, so many of his points tend to come in the final ten minutes of games, if the opposition is chasing.
XG MAGNETS
A couple of other players that stand out to me from this chart are Bowen and Dominic Solanke (£6.4m).

West Ham United and Bournemouth sit amongst the top five teams in the Season Ticker until Gameweek 21. Bowen has played almost all league minutes, whereas Solanke has only twice not played the full 90. This week, both have a great starting fixture to hop on to, before having reasonable fixtures in Blank Gameweek 18.
Meanwhile, Chelsea's fixtures look good and Palmer has played 90 minutes in three consecutive outings. He is second only behind Mohamed Salah (£13.0m) for expected goal involvement (xGI) during the last six matches.
Arsenal themselves look appealing in the mid-term but sit outside of the top five attacks so far. They haven't really found the same gears as last season but there are a couple of interesting pieces in play. Let's look at another excellent @RadarFPL chart: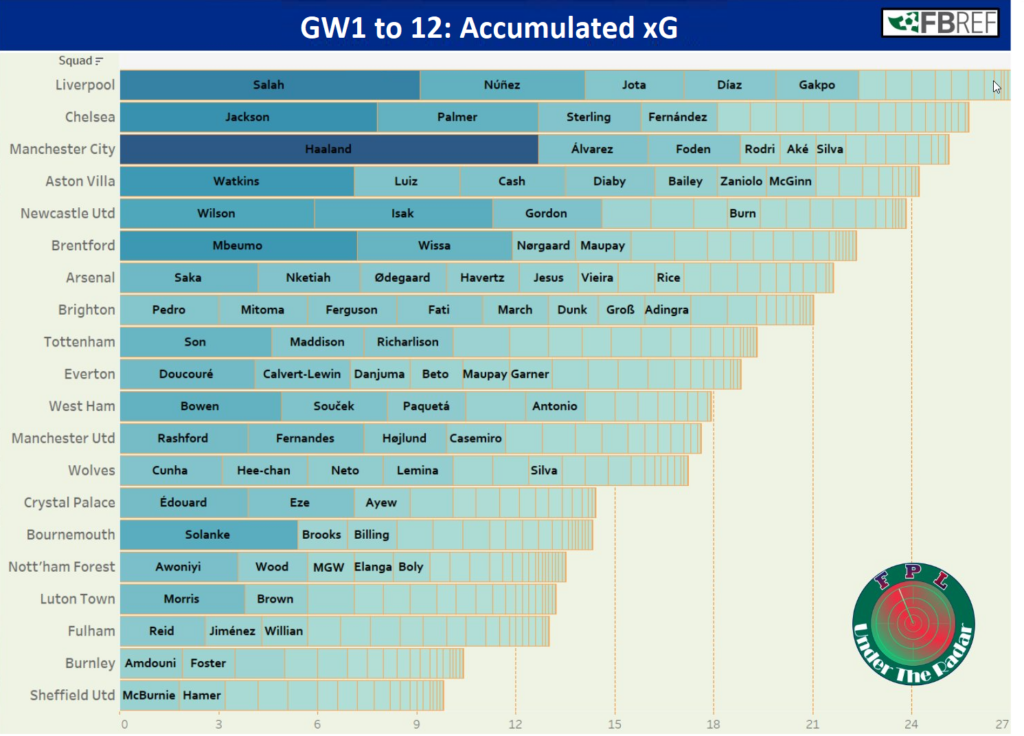 The split in expected goals (xG) accumulations tells a frustrating story. Simply put, their attack isn't as fluid as it used to be and the split is almost equivalent amongst many players. Ahead of a decent set of games, the moving pieces I want to talk about are twofold.
Both Gabriel Jesus (£7.8m) and Martin Odegaard (£8.3m) look likely to be fit and are huge parts of Arsenal's attack. Combined with Bukayo Saka's (£8.6m) last two appearances showing signs that he's coming back to his usual sharp levels, it makes me think that the latter might be a good hold.
I jumped in on both Saka and Martinelli on my Gameweek 10 Wildcard and, despite being against Burnley and Sheffield United, only have two assists to show for it. That said, the Jesus and Odegaard returns have me considering pausing a Martinelli sale but, then again, if Bowen is passed fit, I might make that move anyway given how much I like him facing the Clarets.
If you look at the Mbeumo, Watkins and Bowen slices above, it only adds to their strong FPL credentials.
OBSERVING ISAK
Another factor that stands out is the Newcastle United xG breakdown. At any given point, whichever of Alexander Isak (£7.4m) or Callum Wilson (£7.9m) is not injured for a significant spell quickly becomes a really good pick with many upsides. That said, there is a certain caveat to be applied this time around.

If you look at Newcastle's fixture schedule, they aren't in a secure position in their Champions League group. Plus, we still don't know how fit Isak will be upon recovery and, if Eddie Howe wants to maintain freshness, he has the capacity to play Anthony Gordon (£5.8m) up front.
With Isak, I think assessing him against Chelsea and Paris Saint-Germain before deciding might be the best way forward. The Magpies have an especially good run from Gameweek 17 and it'll be worthwhile seeing what Wilson's fitness is like around that time.
If the team looks like they've overcome their fatigue and injury struggles, it might be worthwhile to invest there. We saw in the minutes vs underlying threat chart earlier that Isak is up there with the likes of Salah, Watkins and Erling Haaland (£14.0m). Depending on Wilson, the Swede could very much be worth a roll of the dice.
RELIABLE DEFENDERS
Moving on from the chat about attackers. Let's quickly touch upon defenders.
During this Christmas congestion, I wonder if centre-backs will be more reliable and less prone to rotation than full-backs. That's why I like William Saliba (£5.4m) and Virgil van Dijk (£6.1m) – they come from reliable defences that have good upcoming fixtures.
In a couple more weeks, we'll be looking at Newcastle and Chelsea defenders. Shopping cheap, it'll involve a glance at the statuses of Sven Botman (£4.6m) and Levi Colwill (£4.6m). In the meantime, Reece James (£5.3m) is doing everything he can to tempt us and suck people back in before… we all know what happens next.
He's even saying the right things.
"There are times you feel things but all you want to do is play. Then you push and realize something has happened. My body gave me a warning but I didn't listen. I'm more aware now when something is screaming, slow down a bit. I haven't felt this good in a long time. I definitely feel my strength and fitness building up again.

"Recently, I've been able to play consistently. I haven't been able to play 90 minutes yet, but I'm training and playing hard, and pushing the limits every day to get back to my best level." – Reece James
Oh Reece, you charmer. Consider me interested. But for now, I'll be a quiet observer. I think. I hope.
If you want more, Zophar, Pras and I immersed ourselves in festive conversation during our Gameweek 13 episode of The FPL Wire, which you can view below: