Throughout the 2022/23 Fantasy Premier League (FPL) season, our team of Pro Pundits, Hall of Famers and guest contributors will be sharing their thoughts, tips and own transfer plans.
Only Premium Members are able to read every single one of these pieces, so sign up today to get full access not just to the editorial content but all of the other benefits, from hundreds of Opta stats to a transfer planner.
Here, two-time Indian FPL champion Lateriser talks about learning to dilute the online noise and play your own game when making transfers.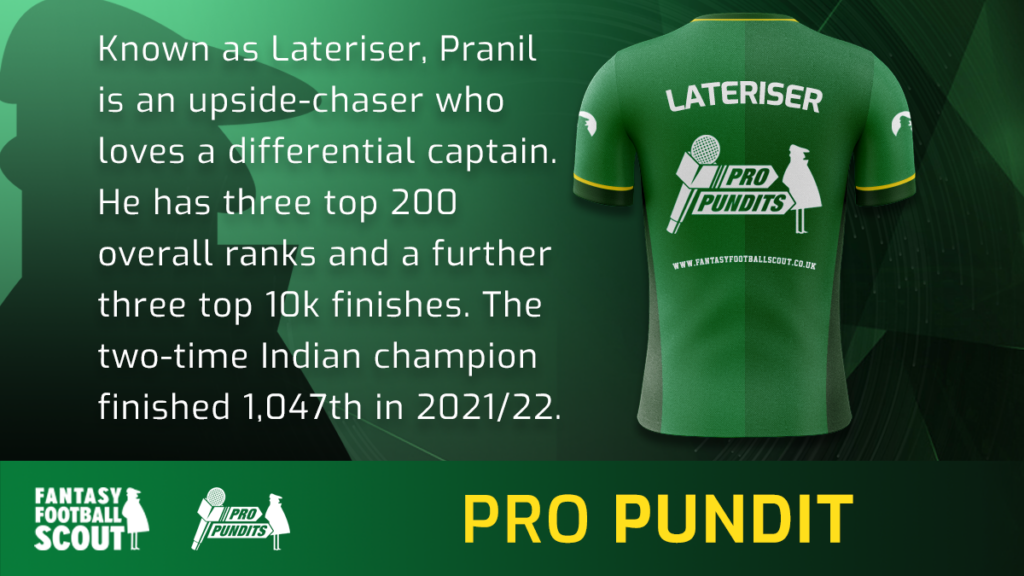 ---
We are in a state of FPL stalemate. Having done an aggressive 12-point hit last Gameweek, my instinct to bring in a Brighton and Hove Albion player this week, in particular Kaoru Mitoma (£5.0m), is very high.
However, as my fellow Pro Pundit Zophar rightly pointed out in his article here, the reasons to save the free transfer are plentiful. The reason I still struggle with this is that points are right there for the taking, especially with Brighton's opponents Leicester City being behind only Leeds United for expected goals conceded (xGC) during the last six matches.
Additionally, with the subsequent attractive fixtures being Bournemouth (H), Crystal Palace (A) and Fulham (H), this temptation is going to be hard to resist. Tom Freeman did give me some ammunition for patience with his excellent dive into Miguel Almiron's (£5.9m) numbers here.
READ MORE: FPL Gameweek 21 live team news: Friday's injury updates
MOVING PARTS
The thinking in my head is that, if I'm not buying Mitoma this week, do I want to go there next week instead? My answer is that, by having only one Arsenal defender in my squad, getting two of their attackers will probably be next week's priority.
There is a risk-reward analysis you need to make, looking at how many players you have from the four teams likely to blank in Gameweek 25 – Newcastle United, Manchester United, Brighton and Brentford – should the first two overcome their Carabao Cup semi-final opponents.
It's worth noting that there are a few moving parts to this, as Brighton might still not blank, but my FPL philosophy of 'if you're sure of getting a player, do it at the start of a good fixture run to maximise the chance of a haul' might have to take a back seat due to such moving parts.
A lot of people are complaining about FPL being template-heavy right now but Thursday night showed that there are enough picks to boost your ranking if you're paying close attention. My 12-point hit was to set up for the long-term, as I wanted the right three for Manchester City's Double Gameweek 23 and Man United's potential Double Gameweek 22.
I obviously knew the risks of going for a semi-injured Anthony Martial and I do have a bias there because I have always felt that people don't realise how much of a first-choice Martial is under ten Hag.
That said, the injury risks are high and I decided to 'semi-bluff', which might not be for everyone. I also got a fair amount of stick for shifting Joao Cancelo (£7.2m) and Phil Foden (£8.1m) out for Kevin De Bruyne (£12.5m) and Riyad Mahrez (£7.5m) but the simple reasoning is that I wanted to get what I believed were the right three Man City players instead of convenient transfers.
While that is always risky for a Pep Guardiola team, it appeared to me that Mahrez was their sharpest attacker since the restart so I chose him for the mid-term.
DILUTE THE ONLINE NOISE
There are a lot of ways to play FPL and I've always said there is no right or wrong approach. With so much content creation and information out there, we are sometimes led to playing in one certain manner and that occasionally subdues our instincts, removing our individuality from the game.
We're all battling this throughout the season and, about two months ago, I made a decision to play FPL in my own way and dilute the noise so that I have only three or four reliable soundboards to rely on when making decisions.
People never realise how much thought FPL managers put into making moves, as they are carefully weighted. While talking about that to others, I promise you no more than 5% of those thoughts go in the reply you get.
The most important replies from your soundboards are fact-based ones that cite factors that you might have missed out on while weighing up your decisions and these are the most important ones. Opinion-based replies like 'player x is historically a troll' are looser, in my opinion, and should always be taken with a pinch of salt. As long as your decisions are well-researched, you should be fine.
That's it from me this week, as we all quietly observe this state of FPL stalemate (or not) and wait for the upcoming storm!