Bruno Fernandes (£9.9m) is top of many Fantasy Premier League (FPL) managers' shopping lists ahead of Gameweek 22.
The Manchester United midfielder has been the subject of more transfers in than any other player ahead of next Friday's deadline.
It's not just his recent form – 36 points in his last five appearances – that is appealing to FPL bosses but also the strong possibility of Gameweek 22 being a 'double' for the Red Devils.
With his stock on the rise, we take a look at his current output to see how it compares to his historic record, including his outstanding 2020/21 campaign.
Note: For the rolling six-game images below, click to expand into a new window.
SHOTS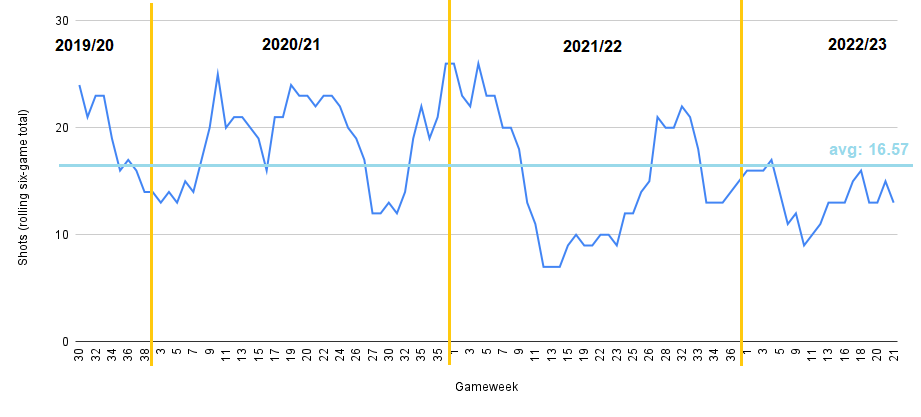 For much of Erik ten Hag's tenure, Fernandes has been below average for goal attempts compared to his historic average at Manchester United.
But the slump started long before the Dutchman's arrival and, adding fuel to this particular argument, seemed to coincide with the capture of (the some would say ball-greedy) Cristiano Ronaldo in late August 2021.
Fernandes' rolling six-game goal attempts tally tumbled from its apex to its absolute nadir within two months of Ronaldo's arrival and never really recovered in 2021/22, save for a stat-boosting Gameweek 27 appearance against Championship-bound Watford when the midfielder racked up an anomalous eight shots.
| | |
| --- | --- |
| | Shots per 90 minutes (rank v other midfielders) |
| 2022/23 | 2.06 (33rd) |
| Last six matches | 2.18 (29th) |
---
SHOTS IN THE BOX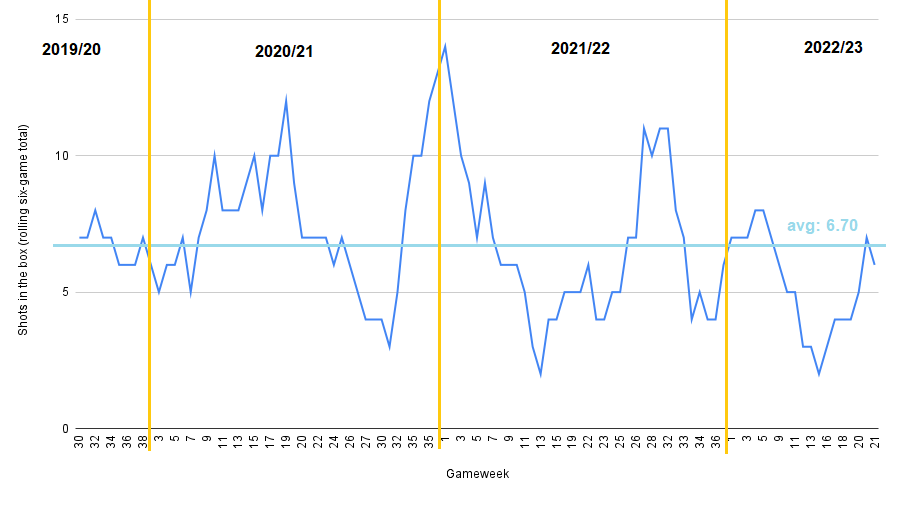 Fernandes' rate of shots in the box hit an all-time low in Gameweek 14 of the current campaign, with just two such efforts arriving in six matches. That six-game period did feature fixtures against Manchester City, Newcastle United, Chelsea and Tottenham Hotspur, in mitigation.
We've seen a bit of a recovery since the World Cup (and Ronaldo's departure) but only to somewhere around his historic Premier League mean.
| | |
| --- | --- |
| | Shots in the box per 90 minutes (rank v other midfielders) |
| 2022/23 | 0.85 (67th) |
| Last six matches | 1.01 (=51st) |
---
BIG CHANCES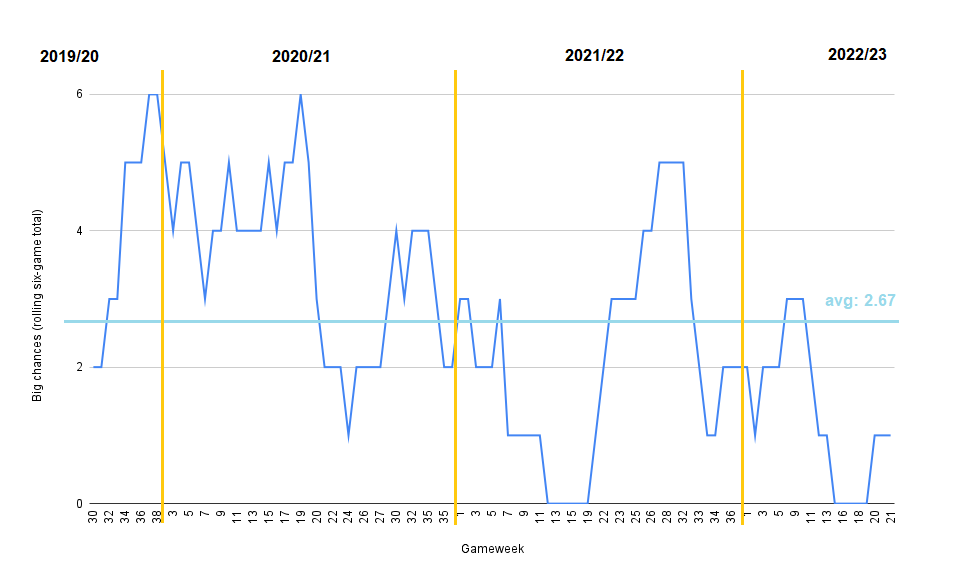 For the uninitiated, a 'big chance' is – according to data compilers Opta – "a situation where a player should reasonably be expected to score".
One such situation is a penalty, and there's a definite split in the above graphic when Fernandes ceased to have the monopoly on spot-kicks at United:
| | |
| --- | --- |
| Season | Penalties Taken |
| 2019/20 (half-season) | 4 |
| 2020/21 | 10 |
| 2021/22 | 2 |
| 2022/23 (half-season) | 0 |
---
The Portugal international has missed his last two Premier League penalties, both taken in 2021/22, and hasn't been trusted from 12 yards for United in any competition since.
Over a third (34.8%) of Fernandes' big chances in his United career have come from the penalty spot.
Taking a closer look at this season, Fernandes has had just one big chance (his contentious 'offside' goal in the Manchester derby) in his last 13 appearances.
These gilt-edged opportunities do matter, despite his ability to shoot from distance: 60% of his 40 Premier League goals have been classed as 'big chances', while 82.5% of his goals have been from shots in the box.
| | |
| --- | --- |
| | Big chances per 90 minutes (rank v other midfielders) |
| 2022/23 | 0.21 (=50th) |
| Last six matches | 0.17 (=61st) |
---
CHANCES CREATED