Newcastle United's victory over Southampton in the EFL Cup semi-final on Tuesday means that the Magpies and Brighton and Hove Albion will now blank in Gameweek 25.
The two sides were due to meet in that Gameweek but the EFL Cup final now causes a clash, and the scheduled Premier League game falls by the wayside.
The other semi-final second-leg tie takes place on Wednesday but Manchester United will almost certainly join Eddie Howe's side at Wembley on February 26, taking a 3-0 lead into their rematch with Nottingham Forest.
The Red Devils' Gameweek 25 clash with Brentford will be postponed, too, unless Forest mount the comeback of all comebacks.
BRENTFORD, BRIGHTON, MAN UTD AND NEWCASTLE'S FIXTURES
Should Manchester United progress to the EFL Cup final as expected, here are the upcoming fixture runs for the four Gameweek 25 'blankers':

In addition to the above, Brentford, Brighton and Manchester United could (in fact, very likely) all blank in Gameweek 28 due to the clash with the FA Cup quarter-finals.
We'll know that for sure ahead of the Gameweek 26 deadline.
HOW GAMEWEEK 25 LOOKS
Again, should Man Utd progress as expected, here's how Gameweek 25 will look: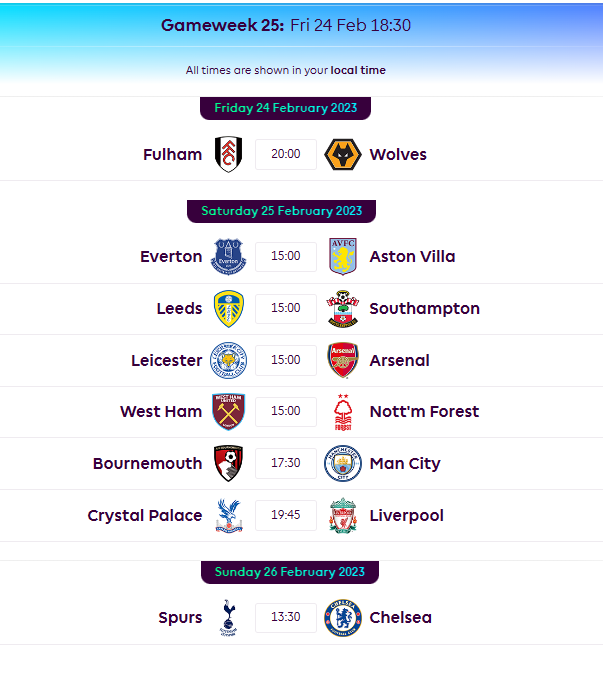 There is the possibility that two other fixtures get added to create a 'double'.
Liverpool v Wolves, Arsenal v Everton and Chelsea v Liverpool are the only three outstanding matches that could go in the midweek after Gameweek 25 (when the FA Cup fifth round is taking place), but the latter looks less likely due to it being a TV pick originally and the game would be going up against a televised cup game.