Throughout the 2022/23 Fantasy Premier League (FPL) season, our team of Pro Pundits, Hall of Famers and guest contributors will be sharing their thoughts, tips and own transfer plans.
Only Premium Members are able to read every single one of these pieces, so sign up today to get full access not just to the editorial content but all of the other benefits, from hundreds of Opta stats to a transfer planner.
Here, two-time Indian FPL champion Lateriser talks about some Gameweek 22 conundrums.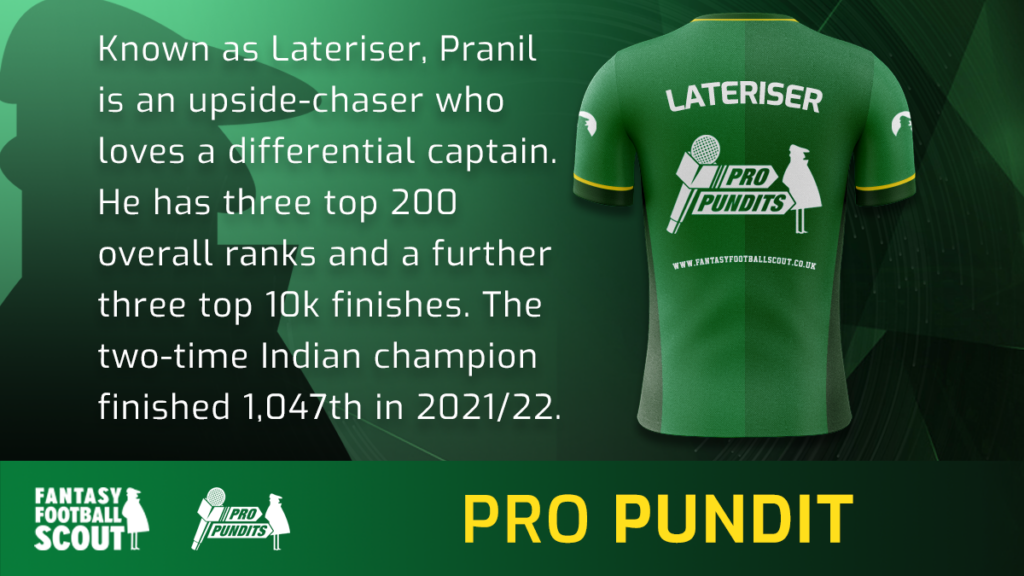 ---
Going into Gameweek 22, there are more than a few decisions that Fantasy Premier League (FPL) managers need to make.
There are a few things on my mind when it comes to the decisions that I myself am weighing up, so consider this article a thought dump of the things I'm pondering!
BUY FERNANDES?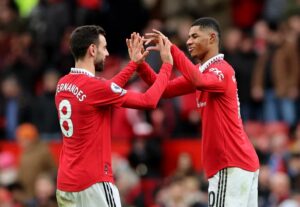 First up, let's talk about Manchester United. Being a United fan, I thought I'd weigh up how I feel about our assets.
If I were given a clean slate today, the three Manchester United players I would own would be Marcus Rashford (£7.2m), Bruno Fernandes (£9.9m) and Luke Shaw (£5.3m). It seems fairly obvious but I'll just add a few nuances or points.
Firstly, Christian Eriksen's (£6.3m) injury means more set pieces for Fernandes and Shaw as Eriksen tended to hog the corners and free-kicks beforehand. Also, there is some confusion about who takes penalties for Manchester United and my personal point of view is I think it is 65% likely that Fernandes takes them and 35% likely that Rashford assumes responsibility.
I'd like you to have a look at this video from the FA Cup tie against Everton last month, when Rashford scored from the spot:
In my opinion, Fernandes gets the ball first and Rashford asks him for the honour. It is also worth noting that Rashford was also in pursuit of a goalscoring record at the time. Now confidence and Rashford's form might mean that he keeps them but if I was a betting man, I'd think that Fernandes takes the next one.
While Neale has already done a deep dive on Fernandes, I think that it is worth mentioning that he has been in better goalscoring positions than the underlying numbers indicate. I do want to acknowledge the potential impact of Eriksen's absence and, in the EFL Cup tie against Nottingham Forest yesterday, Fernandes did look mainly like the creator and not the goalscorer (Erik ten Hag played him on the right and Jadon Sancho (£7.1m) as the number 10 when Sancho came on). But this is Bruno Fernandes we're talking about and he does a good job of arriving inside the box late, so he will always be among the points.
One other advantage with Bruno is if you're looking for a long-term Manchester United asset beyond Gameweek 25, Fernandes is the one, as he is just a minutes and fitness monster and there are rarely worries about an injury. I am talking about Fernandes in depth because I currently have Anthony Martial (£6.5m) in my team (in addition to Rashford and Shaw) and was contemplating whether I should get Fernandes or Antony (£7.3m) instead. While I was more open to Antony in my thread about Manchester United yesterday, I think Sancho's threat to his expected minutes is significant enough to go for Bruno over the Brazilian. In case you wanted to read the thread, find it below:
Now I was fairly set on going for Fernandes before the second cup tie for Manchester United but at the moment I am 50-50 on whether to hold Martial or get the Portuguese playmaker in. There's a few factors influencing my decision.
Firstly, Manchester United blank in Gameweek 25 and likely blank in Gameweek 28, too, so it is likely we might want to sell Fernandes in Gameweek 25 (team dependant, of course). So do I spend two additional transfers to get Fernandes in and out or just one transfer, when I might offload Martial in Gameweek 25?
The dilemma is therefore Martial + 4 points versus Fernandes. If they get the same minutes, I'm confident that Martial outperforms Fernandes. I think it is more likely going to be 90-100 minutes of Martial (30 + 60) versus 180 minutes of Bruno Fernandes in Double Gameweek 22 but since I'm going to captain (or Triple Captain) Rashford, I have to contemplate whether the additional transfer is worth it when United are likely to not have games in both Gameweek 25 and 28.
NKETIAH V ARSENAL MIDFIELDERS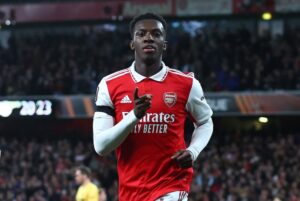 Eddie Nketiah (£6.7m) was someone I was very set on for my Martial replacement but Gabriel Jesus (£7.9m) tweeted yesterday that he is back on the grass – and the Arsenal assets you want, you are likely to hold until Gameweek 28. I am now wondering if it is better to just get two midfielders from the Gunners who I will set and forget.
I do think getting Nketiah over one of them is my preference so I will be following what Mikel Arteta says about Jesus' return date in the press conference closely. It's not like Bukayo Saka (£8.2m) and Martin Odegaard (£6.9m) are bad picks but given a choice, as of now I prefer Saka and Nketiah (I already own Ben White (£4.7m)).
While we're on the topic of White and Martinelli, I wouldn't move either of them out for another Arsenal player as they're both first choice in my books and I think Martinelli's underperformance since the restart is slightly exaggerated. His underlying numbers have been good from Gameweek 17 onwards and I think moving him out before a game against Seamus Coleman (£4.4m) would be a mistake.
TRIPLE CAPTAINCY CONUNDRUM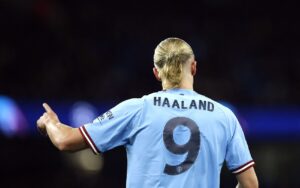 Now, very briefly, I will give my thoughts about the Triple Captain chip.
Earlier in the week, I was fairly sure about giving it to Erling Haaland (£12.2m) in Gameweek 23. I don't worry too much about the match against a defensively astute Arsenal because I have a feeling it is the most motivated Manchester City players will be and I don't dislike that as a game for City's attackers. The game against Manchester United made me realize that quality opposition can definitely have a go against Arsenal. And the main thought in my head is Haaland is the best asset FPL has probably given to us in a decade. He can pretty much brace in any game, his upside is tremendous and since Manchester City don't have an FA Cup replay, I'm not worried about the expected minutes. If a rest is to come, I think the game against Nottingham Forest – which is before the Champions League tie against RB Leipzig – looks the most likely.
The only reason we are not considering Haaland is Rashford's form and the fixtures he has. A Saturday-Wednesday-Sunday turnaround for Manchester United in the coming week is very comfortable and a couple of factors have increased the urge to put the Triple Captain armband on Rashford. For starters, in my opinion, he's a much better FPL asset when playing alongside Martial and the fixtures are just too good with two strong home games. You'd also slightly weigh in the extra point for a goal for Rashford and the additional clean sheet point and you do think he has a high floor as well as a high ceiling. I keep saying these things and then I say to myself, Haaland is the best FPL asset we've probably had in a decade – and it's why I keep dilly-dallying between the two.
I think this is a decision I'll probably make on Friday night but I do think both are good plays, so follow where your gut takes you with this one as I'm not against either call.
---
For more, you can watch this week's FPL Wire episode below: