FPL Focal previews the weekend's Fantasy Premier League (FPL) action, taking a look at who the bookies think are the best bets for goals and clean sheets as well as monitoring the latest transfer trends.
Make sure to also check out G-Whizz's weekly Hot Topic on fixture and clean sheet odds when it appears, which also looks back at how the bookmakers performed in the previous Gameweek.
---
GAMEWEEK 25: GOALSCORER ODDS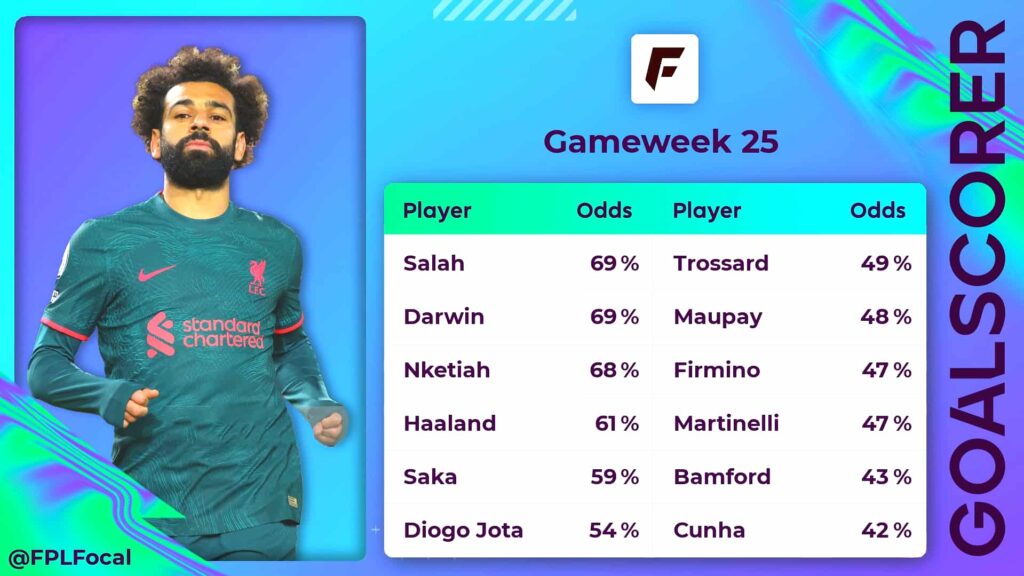 Starting with the anytime goalscorer odds, I've combined the Double Gameweek fixtures so that these are the odds of a player scoring at any point throughout their two.
Bookies' odds always assume a player starts – which is far from certain in the case of Leandro Trossard (£6.6m) – but if Gabriel Martinelli (£6.5m) was to get injured before the deadline, this suddenly becomes a very useful measurement that's better left in.
Mohamed Salah (£12.6m) and Darwin Nunez (£8.7m) are tied with a 69% chance of netting in either game. The two have combined well in recent weeks and look like they're building chemistry, which was carried into Tuesday night's Champions League match. They scored the first two goals, with a quality assist from Salah finding Darwin.
Eddie Nketiah (£6.8m) has a 68% chance – he's almost Darwin-lite, in terms of racking up the expected goals (xG) numbers but being overdue a return. Over the last four games, he is comfortably the league's number one for expected goal involvement (xGI) with 4.26, way ahead of Bruno Fernandes' (£9.8m) 3.3.
It'll be interesting to see if anyone is tempted by captaining Erling Haaland (£12.2m) as, despite his single Gameweek, he has been given 61% odds versus Bournemouth, this season's third-worst team for expected goals conceded (xGC).
Meanwhile, Bukayo Saka (£8.4m) is rated at 59% for a goal, plays twice and should be on penalties, taking one last week whilst Jorginho was on the pitch. If you own Martinelli, it's worth looking at a way to move him onto Saka or Martin Odegaard (£7.0m) after being benched last week. Although he did come on to score an open goal at the end.
However, if you have a solid triple-up such as Gabriel (£5.2m), Odegaard and Nketiah, it's not worth chopping your team up in order to fit Saka in.
Neal Maupay (£5.9m) has odds of 48% for Everton's double against Aston Villa (H) and Arsenal (a). With Dominic Calvert-Lewin (£7.9m) out, Maupay ought to be nailed start but that hasn't proven the case so far and he's not exactly a Sean Dyche type of forward, as the former Burnley boss prefers a target man for defenders to ping balls up to. He's cheap but I'd still avoid doing it, as he has just one goal all season.
GAMEWEEK 25: CLEAN SHEET ODDS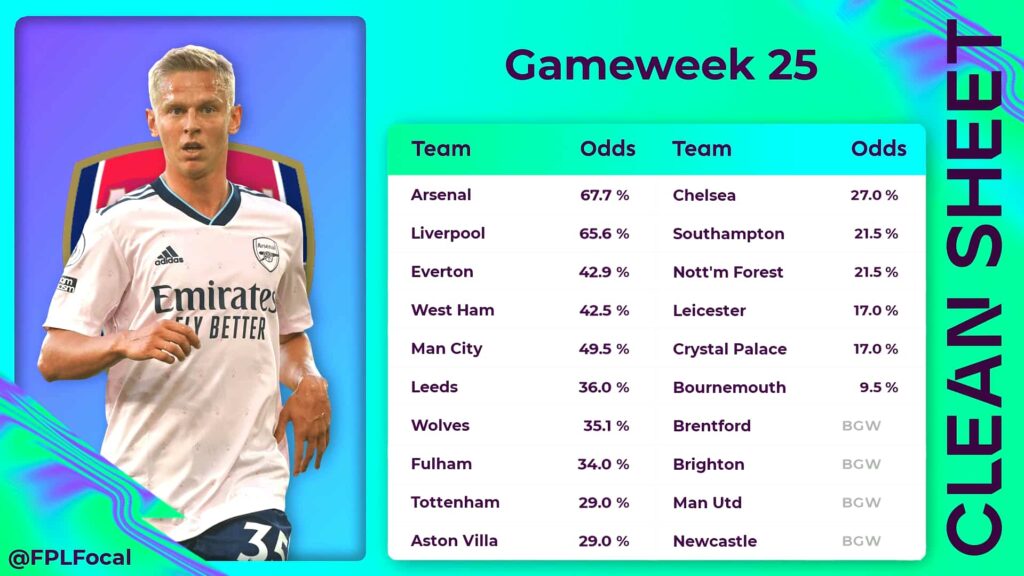 The Double Gameweek odds are combined here too, giving the chance of keeping at least one clean sheet. Arsenal are first with a 67.7% chance, facing Leicester City (a) and then Everton (H). Gabriel, William Saliba (£5.3m) and Oleksandr Zinchenko (£5.1m) are all good options, with the latter scoring his first-ever Premier League goal last weekend.
It's time to discuss Liverpool, given a 65.6% chance by the bookies for Crystal Palace (a) and Wolverhampton Wanderers (a). Although two clean sheets have arrived in their last two league games, Real Madrid's five goals at Anfield have put many managers off. Then again, in a week where teams blank but Liverpool play twice, in my eyes it's still justifiable to bring in someone like Trent Alexander-Arnold (£7.3m).
Over the last six Gameweeks Crystal Palace are second-worst in the league for expected goals and Wolves are nearby as the fifth-worst. It wouldn't be unreasonable to hope for one clean sheet and their attacking full-backs always have a chance of returns up the other end. They share most corners, for example.
Joe Gomez (£4.3m) left the Real Madrid clash holding his hamstring after a poor game, so he's to be avoided.
Everton are guaranteed to play in Blank Gameweek 28, making James Tarkowski (£4.3m) their stand-out option. Over the last six Gameweeks, he's taken seven shots, created three chances and has a 0.94 xG that ranks third among all defenders.
It's best to avoid the Wolves defence, as their opponents are strong offensively and we don't yet know if they'll take part in Gameweek 28.
Aymeric Laporte (£5.7m) wasn't in Manchester City's Champions League squad, nor was Kevin De Bruyne (£12.4m). Pep cited illness for both. If you're a Nathan Ake (£5.1m) owner, he's worth starting if Laporte is confirmed to remain unavailable. The champions have a 49.5% chance of keeping out Bournemouth.
GAMEWEEK 25: MOST TRANSFERS IN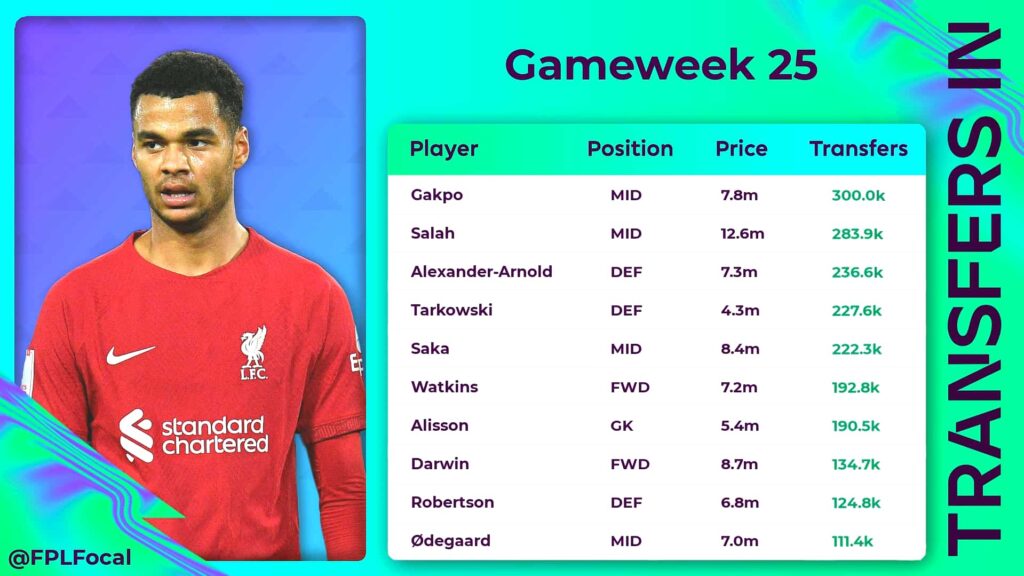 Cody Gakpo (£7.8m) is top here with 300,000 new owners at the time of writing, following back-to-back league goals. He could be a great differential alongside Salah but I wouldn't recommend choosing him over the Egyptian. With Diogo Jota (£8.8m) and Roberto Firmino (£8.0m) around, there's a strong chance that Gakpo either continues to come off early or is benched for one of the two matches.
That said, there's the option to punt on him for one week before looking at someone like Kaoru Mitoma (£5.4m) who is home to Southampton in Gameweek 26 before his own Double Gameweek 27.
Salah is second with 283k transfers in and is a very logical transfer from De Bruyne or Fernandes. If Leeds United can beat Fulham in the FA Cup next week, it means Liverpool are also confirmed to play in Gameweek 28.
Post-restart, Kieran Trippier (£6.0m) has created the most chances among defenders (36) but Alexander-Arnold is in second place (15) and Andrew Robertson (£6.8m) is joint-third (10). Likewise, Trippier has set up 11 big chances to their seven and three respectively.
So there is a couple of ways to interpret that data. First of all, despite a concerning Champions League result, the pair offer plenty of attacking threat. However, selling Trippier would be a very risky move, considering that Newcastle United won't blank in Gameweek 28.
Ollie Watkins (£7.2m) has four goals and an assist in his last four outings and Aston Villa are another team nailed on for Gameweek 28, facing Everton, Crystal Palace and West Ham United beforehand.
GAMEWEEK 25: MOST TRANSFERS OUT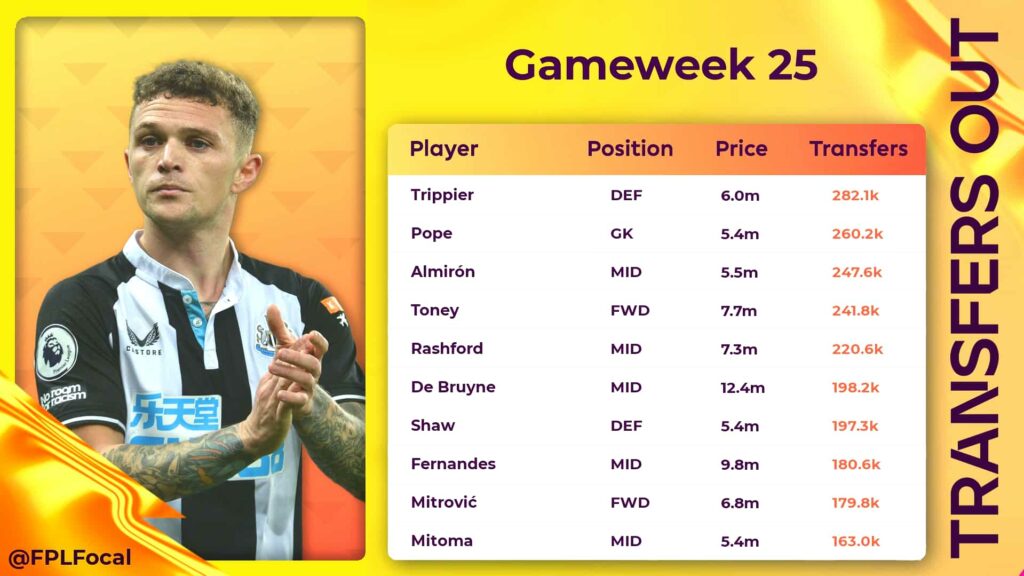 Trippier is currently the week's most-sold player with 282,000. Given the aforementioned stats, this one has the potential to backfire unless the plan is to soon buy him back. Newcastle's clean sheets have slightly dried up but it's no coincidence that it happened whilst Bruno Guimaraes (£5.5m) was suspended. That three-man ban has now been served.
Nick Pope (£5.4m) picked up a red card last week and will miss the EFL Cup final, meaning he's back for Gameweek 26 and the Magpies' Double Gameweek 29 – a 'double' was confirmed on Tuesday for 12 teams.
If you own Brentford or Brighton and Hove Albion assets, they are a bit of a headache. Both teams blank this time (and potentially in Gameweek 28) but will double in Gameweeks 27 and 29. If you can scrape through and hold onto the likes of Mitoma and Ivan Toney (£7.7m), it could be worth it.