The Watchlist has been updated for Gameweek 4 and beyond.
In this article series, we take a look at the stand-out Fantasy Premier League (FPL) players over the medium term.
This is in contrast to the Scout Picks, which deals only in the upcoming Gameweek.
We're in something of a limbo this week as the transfer window is still open until Friday night, with the prospect of new signings being announced shortly before and after the Gameweek 4 deadline.
Any of these new arrivals could have an impact on the players listed below, therefore.
An international break follows, so there'll be another refresh to take account of these fresh acquisitions over the coming fortnight.
MORE ABOUT THE WATCHLIST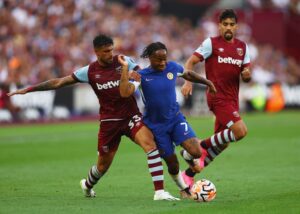 We rank players according to factors such as club injuries, form, underlying numbers, forthcoming fixtures, Rate My Team's points projections and whether or not the player in question is likely to be a bargain in FPL.
Arrows before the name indicate whether a player has increased in appeal or fallen in our reckoning since the previous Gameweek or if they are a new entry into the tables.
The key for the factors you'll see in the below tables is as follows: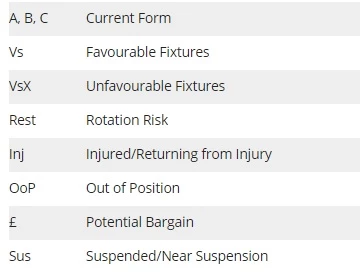 THE WATCHLIST: GOALKEEPERS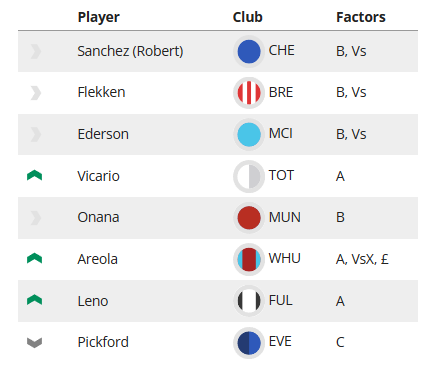 Just to underscore the earlier point made about the transfer window, Crystal Palace are about to announce a new goalkeeper signing. Nottingham Forest may be set to follow suit.
While Sam Johnstone (£4.5m) and Matt Turner (£4.0m) could well retain their places between the posts despite the challenge of a new positional rival, there's too much uncertainty for our liking to keep them in the above table.
Two new entries arrive in the form of Guglielmo Vicario (£5.0m) and Bernd Leno (£4.5m), for different reasons.
Tottenham Hotspur face all three newly promoted clubs, Fulham and Crystal Palace between now and Gameweek 10, with Spurs high up the Season Ticker as a result. Vicario's all-round game, from passing to recoveries and saves, means he is faring well on the Bonus Points System (BPS).
As for Leno, he's playing for the team with the worst expected goals conceded (xGC) tally in the division and some iffy upcoming fixtures. But he's already racked up six save points and five bonus points and, crucially, he rotates really well (except for Gameweek 9) with Alphonse Areola (£4.1m) to give the following run:

No goalkeeper has made more saves from shots taken outside the area than Areola, incidentally. These low-xG attempts are typically meat and drink for goalkeepers, so save points should arrive with more ease.
THE WATCHLIST: DEFENDERS