In the latest article from our team of Hall of Famers and guest writers, Fantasy 'all-rounder' Obay Eid/FPL Milanista discusses the importance of avoiding regret and his Gameweek 4 transfer plans.
Don't forget to sign up here for the 2023/24 campaign if you haven't already – once you're aboard, you've locked in the price of your Premium Membership for good, so long as you don't cancel!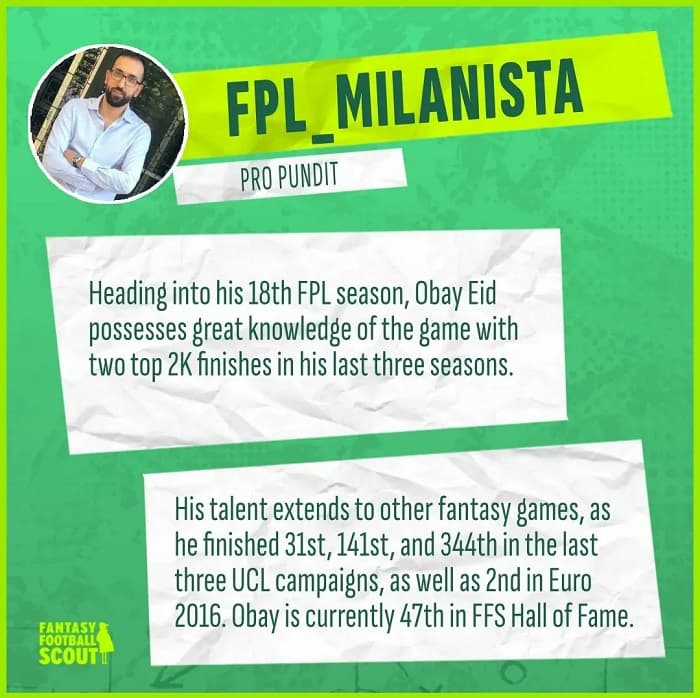 ---
Although FPL has a lot to do with 'feelings', I've learned throughout the years that regretting your own decision will only lead to frustration and eventually worse results. Nevertheless, there are events/instances that will definitely get stuck into a person's mind during a season.
This year, FPL decided to challenge me early – or we can say, very early.
In this article, I will be covering the small details behind the transfer decisions that cost me serious points over the first three Gameweeks and then move on to discuss the players who are strongly on my watchlist for Gameweek 4.
DECISIONS AND OUTCOMES – A CASE STUDY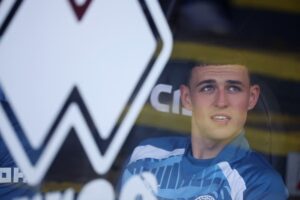 Going back to August 10, one day prior to the first FPL deadline, I was quite certain that I would be entering the season in a 3-5-2 formation with the double-up on Manchester United and Arsenal midfielders. The last midfield slot was up for grabs and, after serious thought, it was James Maddison (£7.6m) who secured that position in my team. This remained the case up until we got early team news suggesting that Phil Foden (£7.6m) was starting in a strong Manchester City team facing newly promoted Burnley, so I made a last-minute switch.
The Cityzens dominated the game and won 3-0, albeit with no attacking returns for Foden. However, City's #47 recorded a healthy 0.44 expected goal involvement (xGI) and made a case for himself to be kept in my team. A couple of days later, Maddison excelled, registering a couple of assists and an xGI of 1.02.
On Wednesday of that week, Foden started the UEFA Super Cup, played the full 90 minutes, and was quite anonymous. In my mind, he was uncertain to play a full game against a respectable Newcastle United side after just two days of rest, something even Pep Guardiola questioned. On the other hand, Maddison was heading towards his debut at the Tottenham Hotspur Stadium against a Manchester United side that was very leaky on the opening day against Wolverhampton Wanderers. I decided to make the switch.
Wouldn't you just know it, an otherwise excellent Maddison blanked against the Red Devils and worryingly exited the stadium on crutches. Later on that night, Foden ran the show against Newcastle United, created seven chances, assisted once, and was awarded the full bonus points.
During the week, I was closely monitoring the Maddison injury situation, and given the fact that I had a very weak bench in case he missed out, price changes meant I had no choice but to make a switch. Multiple sources indicated that Maddison was doubtful to be risked against Bournemouth and the fact that Foden was increasing in price forced me to reverse my Gameweek 2 transfer.
We all know what happened from that moment on, with Maddison recovering quickly enough to start and score in Gameweek 3 while Foden picked up an illness (something only reported after the deadline) and managed to play just four minutes. I'd consider myself lucky with the consolation assist I got from him.
You may well consider the above transfers as rash decisions but I still think I would've done them again and again if the surrounding circumstances were repeated. Who, before Ange Postecoglou's press conference last Friday and a training-ground no-show from Maddison on Thursday, would've expected the main man at Spurs to start a very much winnable game and expose him to a worse injury? Switching to Foden, who is playing that Kevin De Bruyne (£10.3m) role with a full week of rest, was an obvious decision at that moment.
Again, this is the beauty of FPL. Sometimes we do get rewarded for our moves, and sometimes transfers may not fetch rewards straightaway – or at all. The most important thing is to not let those 50/50 decisions psychologically affect our rational thinking and just move ahead with planning and exploring our next moves. Experiencing regret in FPL is the most threatening feeling that could ruin our seasons.
EZE + TRIPPIER IN?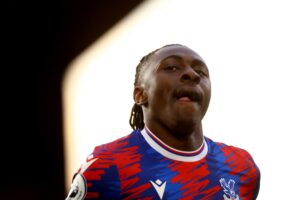 Talking of planning ahead, I'd like to discuss a few players that I've got my eye on, starting with the obvious: Raheem Sterling (£7.1m). Heading into Gameweek 4 after a 19-point haul, Sterling is by far the most transferred-in asset at the time of writing, something that will continue up until the deadline as Chelsea rank first in the fixture ticker over the next five Gameweeks. A confident Sterling with favourable fixtures and priced at £7.1m is a very tempting move; well done to those who jumped there before Gameweek 3!
Maddison, again, is being talked a lot about recently and I have nothing to add here: he's the main man at Spurs who is playing just behind the striker with access to all set plays. Do I want to transfer him in again for the second time in three weeks, though? I'm still undecided.
But the other midfielder that I've got my eye on is someone who is hemorrhaging owners and not flavour of the week, Eberechi Eze (£6.4m). The Crystal Palace talisman must be considered extremely unlucky to not register an attacking return across his first three fixtures after having 16 goal attempts (top of all midfielders), of which seven were inside the box. He has also created nine chances for his teammates.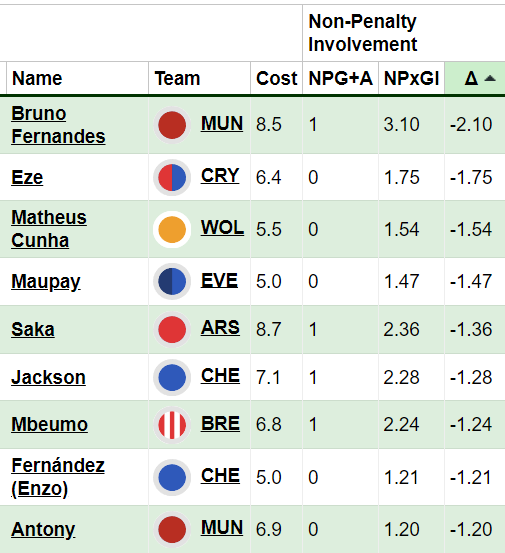 Above: Only Bruno Fernandes (£8.5m) is 'underachieving' more than Eze this season based on non-penalty expected goal involvement (NPxGI)
Nicolas Jackson (£7.1m) and Taiwo Awoniyi (£6.5m) are top of my forward watchlist but with Nottingham Forest's mixed schedule, I think I'll be patient and keep monitoring the latter for the time being.
At the back, I believe Manchester City coverage must be on everyone's mind with the strong defensive displays that we have seen across the first three Gameweeks. However, it's another player who has dropped in popularity, Kieran Trippier (£6.5m), who is towards the top of my watchlist as Newcastle United's fixtures turn significantly from Gameweek 5 onwards.
FPL GAMEWEEK 4 TRANSFER PLANS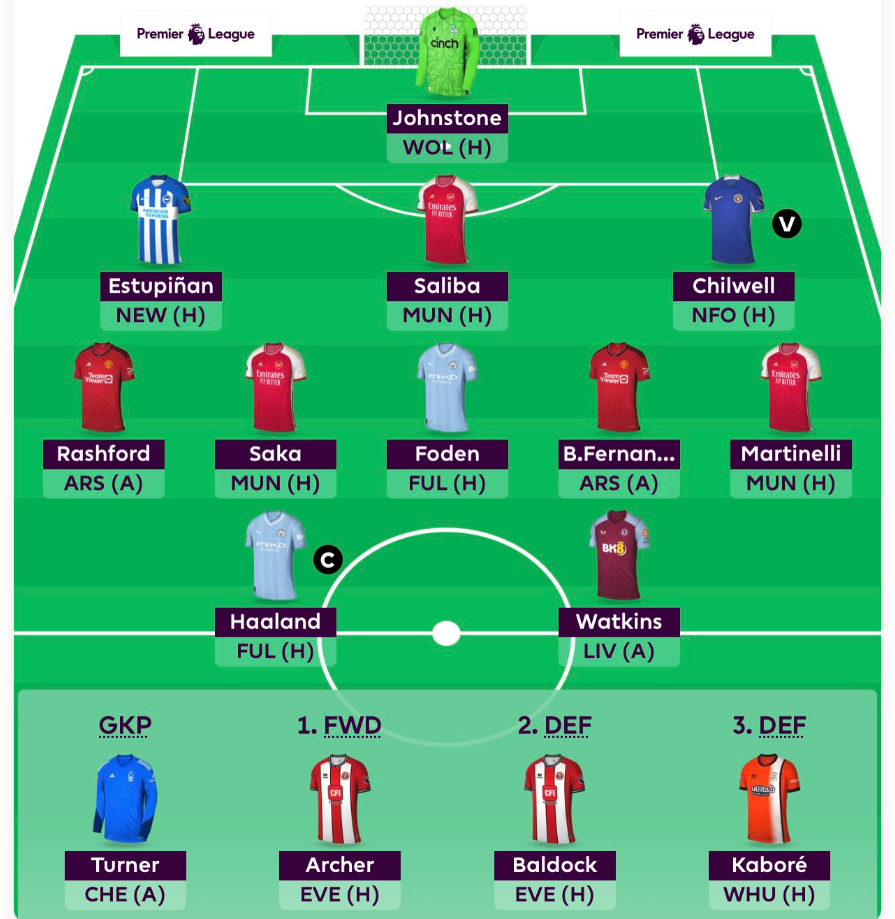 This is how my Gameweek 4 team looks. Although I'm not forced to make any move this time around, I may be a bit reluctant to enter the Arsenal v Manchester United clash with five players from the same game.
If anyone is to leave from that midfield, it will most likely be Gabriel Martinelli (£8.0m), who could possibly see his minutes reduced with the return of Gabriel Jesus (£7.9m). Sterling and Maddison are the obvious picks but Eze is not far behind in my pecking order. In fact, if I want an easy route to Trippier in Gameweek 5, then the cash saved by going Eze will be extremely useful.
There's no need to make any early decision this time, so I will be waiting till all the midweek cup games are finished and all press conferences are completed to make a final decision on Friday.
Thank you all for reading, and I hope you all had a great start to the season. Good luck in Gameweek 4!