Throughout the 2022/23 Fantasy Premier League (FPL) season, our team of Pro Pundits, Hall of Famers and guest contributors will be sharing their thoughts, tips and own transfer plans.
Only Premium Members are able to read every single one of these pieces, so sign up today to get full access not just to the editorial content but all of the other benefits, from hundreds of Opta stats to a transfer planner.
Here, two-time Indian FPL champion Lateriser talks about taking points hits for upcoming Double Gameweeks.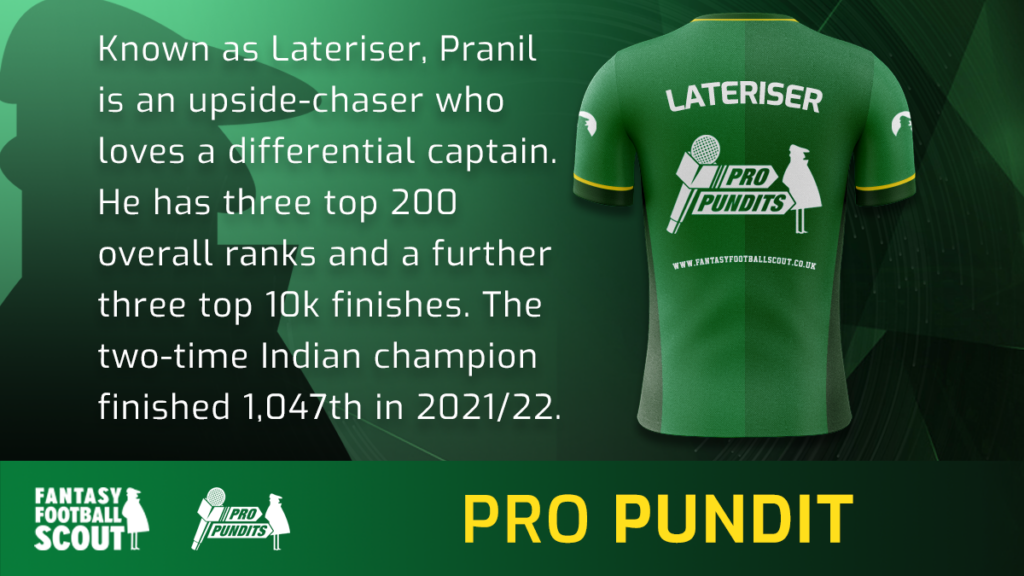 ---
We're officially into Double Gameweek season.
My head has been spiralling due to the process of accumulating as much information as possible (which I've been thoroughly enjoying) and I feel like this week will essentially set up our teams until the Wildcard. In this article, I want to talk about a few strategic factors.
TAKE HITS?
Firstly, if there's one week where you should not be afraid to take hits, it's this one. Especially if you're looking to bring in players from both Manchester teams. Having read this article on how to navigate the Blank Gameweeks, it looks like we're setting up our teams until approximately Gameweek 28.
There are already murmurs of an additional Manchester United double in Gameweek 22 and, irrespective of this, they have a good run of fixtures from Gameweeks 22 to 27 – at home to Crystal Palace, Leicester City, Brentford and Southampton, plus trips to Leeds United and Liverpool.
It makes me think that going with three of their players is a decent idea, despite tough immediate games against Manchester City and Arsenal.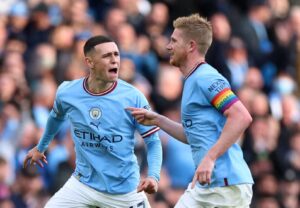 FODEN AND CANCELO OUT?
Speaking of the neighbours, Pep Guardiola's side has Double Gameweeks 20 and 23, so getting the right combination might be fruitful for the mid-term. I currently have Phil Foden (£8.2m) and Joao Cancelo (£7.2m) in my team and I'm almost certainly going to sell one of them to prioritize buying Kevin De Bruyne (£12.5m).
Given the double-double, good fixture run and quality of their team, I think that instead of looking at safe transfers, this is an opportunity to 'mini Wildcard' and secure the right players from these two teams, even if it takes a few hits.
In fact, I expect hits to fly amongst engaged managers, where most of the tuned-in crowd will probably begin the round on minus four points.
I have been scratching my head thinking about whether to sell Foden and/or Cancelo. As things stand, Man City's best front four consists of Erling Haaland (£12.2m), De Bruyne, Riyad Mahrez (£7.5m) and Jack Grealish (£6.8m).
Since the post-World Cup restart, this has been Pep's first choice – especially against a team that plays with a back four. When diving deep into researching his selections, I realised there are so many moving parts with regard to opposition set-ups and individual match-ups. Selecting a certain player affects who is picked on the other side.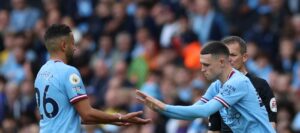 BUY MAHREZ?
However, I've emerged with a belief that Mahrez is an enticing punt because he looks like their sharpest player right now. I'm fairly confident he faces Man United and, while his chances of starting against Spurs' back five are reduced, his form is currently as good as it gets and I'm hoping Pep simply sees him as undroppable.
Conversely, the problem with Guardiola is that – as my fellow Pro Pundit and podcast co-host Zophar worded it – Mahrez is very much flavour of the moment but he's one bad performance away from being dropped again, escalated by their wonderful bench options.
I am going to make a late decision, especially as sickness ruled Grealish out of Sunday's FA Cup win. If that's still the case, it greatly increases Foden's chance of starting.
Indulging in a Man City midfielder not named De Bruyne – with his high number of expected minutes – obviously brings substantial risk. If Grealish is fit, I think I'll roll the dice on Mahrez.
Furthermore, we might be targetting Arsenal assets from around Gameweek 22, giving a decent 'out' should Mahrez not succeed. Even selling Cancelo isn't an easy decision because, while he might be out of favour right now, one good performance puts him right back in.
I'll just leave you with this quote from Guardiola, while we scratch our heads trying to pick the right players:
"I have a few ideas, thoughts – ridiculous ones – against [Manchester] United but I still didn't watch the last games. I have to see the way they play at home and if they change something. That is why I don't have a clear line-up against United."
It is worth repeating that selling Foden or going for another Man City midfielder is a very high-risk game that could easily backfire. Zophar, for example, is not even considering Mahrez and is going with the safer John Stones (£5.4m) instead.
After tonight's Carabao Cup outing, I will be sitting down with Luke. He has been predicting Pep fairly successfully since last season and I want to see what his opinion is, which you can view on Thursday via our YouTube channel.
We also assessed Double Gameweek assets of both now and the future in our current episode of The FPL Wire which you can view below: