For years, a popular Fantasy Premier League (FPL) strategy has been for managers to activate a Wildcard early on. Using one before tonight's Gameweek 4 deadline is gaining traction within the community: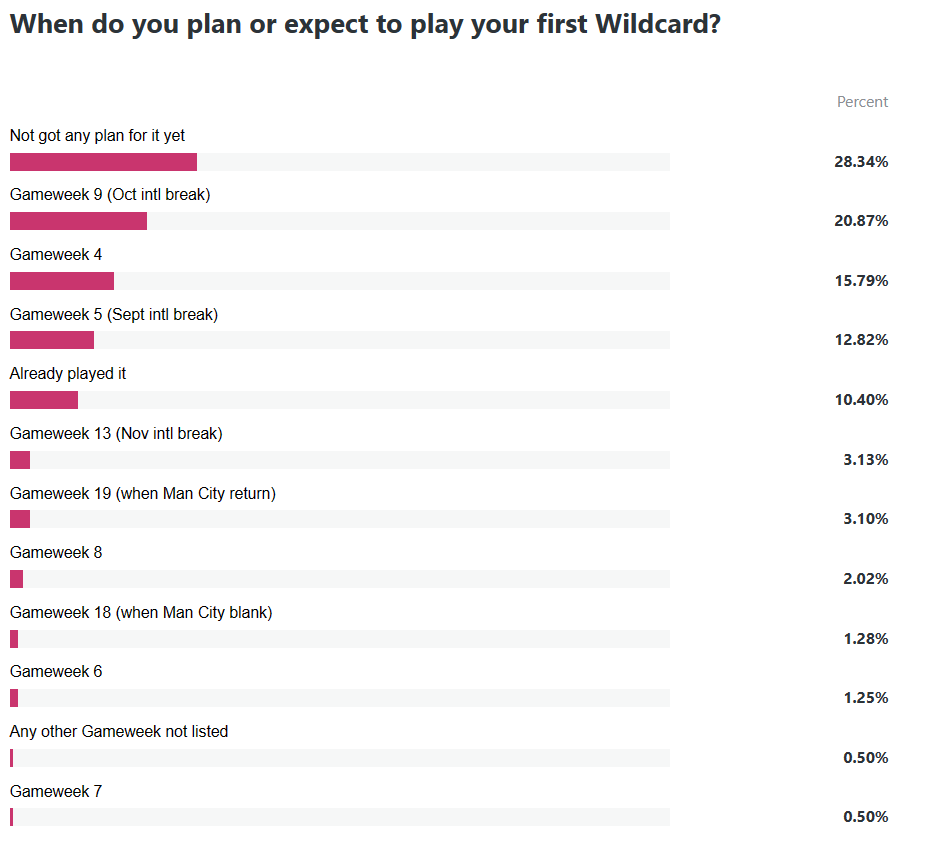 Although we're still in the early weeks of 2023/24, a lot of pre-season questions have already been answered and managers can now feel confident in planning ahead with a long-term squad.
On the other hand – with no period of unlimited post-World Cup transfers this time – it will be a long time until the second Wildcard gets used. Perhaps too big of a gap.
If you've already activated the chip, you'll not be in need of the below. But for those umming and ahhing over whether to activate (almost 30% of our poll responders are undecided), we outline the pros and cons of using the chip right now.
PROS
SELL THOSE INJURED AND IN POOR FORM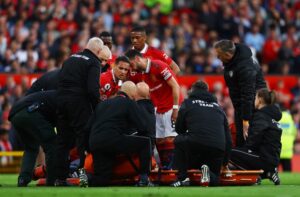 Firstly, a Gameweek 4 Wildcard allows you to get rid of a few major injuries – especially in defence. Some of John Stones (£5.3m), Luke Shaw (£5.4m), Tyrone Mings (£4.3m), Raphael Varane (£5.1m) and Reece James (£5.4m) may still be lingering.
Alongside this could be a desire to sell some out-of-form assets. Trent Alexander-Arnold (£7.9m), Jordan Pickford (£4.5m) and Richarlison (£6.9m) have blanked in every match, whilst the opening day's shock Gabriel (£4.8m) benching has continued. We're already seeing Joao Pedro (£5.5m) rotated at Brighton and Hove Albion.
GET ONTO FIXTURE SWINGS
Fixture swings are lessening the appeal of both the Seagulls and Arsenal. Meanwhile, Chelsea and Tottenham Hotspur have started an attractive fun, soon to be joined by Newcastle United.
THE EFFECT OF LATE TRANSFERS
The final days of this transfer window will affect certain FPL players. Owners of Sam Johnstone (£4.5m) will suddenly be nervous about Dean Henderson's (£4.5m) arrival at Crystal Palace, whilst Manchester City's Jeremy Doku (£6.5m) and Matheus Nunes (£5.0m) add competition for Phil Foden (£7.6m) and Julian Alvarez (£6.6m).
Everton have signed forward Beto (£6.0m), whilst rumours suggest Brennan Johnson (£5.9m) and Ryan Gravenberch are joining Spurs and Liverpool. Cole Palmer (£4.9m) is officially a Chelsea player.
NEW ENABLERS HAVE EMERGED
If Odisseas Vlachodimos joins Nottingham Forest, it's looking grim for those with Matt Turner (£4.0m) as a cheap back-up goalkeeper. Choosing the Bernd Leno (£4.5m) and Alphonse Areola (£4.1m) rotation looks like a good alternative.
Enablers like Carney Chukwuemeka (£4.4m) and Divin Mubama (£4.4m) are either injured or not playing. Instead, the moves of Cameron Archer (£4.5m) and James McAtee (£4.4m) to Sheffield United instantly suggest regular starts for small prices.
Furthermore, midfielder Pape Matar Sarr (£4.5m) is scoring for Spurs and forward Antoine Semenyo (£4.5m) is impressing at Bournemouth.
BOOSTS TEAM VALUE
Another strategy is to use the Wildcard to jump into the hectic world of early price changes. Sell those about to drop and collect those likely to shoot up in ownership.
That will marginally increase your future budget – it could be the difference between affording the next bandwagon and not.
CONS
WINDOW IS STILL OPEN
Friday's 18:30 BST deadline for Gameweek 4 is with several hours of the transfer window remaining. We know what those are like – loads could happen, starting a butterfly effect.
Maybe the day's press conferences have managers confirming that club business is done. But you just never know.
IT'S NOT AN INTERNATIONAL BREAK
A common tactic is to Wildcard during a two-week international break, giving more time to think and – crucially – make quicker reactions to any injuries picked up.
Gameweek 4 occurs just before a break, so even holding off slightly until Gameweek 5 would be better. There are also breaks preceding Gameweeks 9 and 13.
BIGGER FIXTURE SWINGS TO COME
The first of these coincides with a very nice switch in fixture difficulty.

The likes of Liverpool, West Ham United and Aston Villa get an attractive run, whilst Chelsea certainly do not.
LONG TIME UNTIL SECOND WILDCARD
Officially, the final Wildcard can be used from Gameweek 21. But realistically most managers will opt to use it nearer the final stretch, where Blank and Double Gameweeks take place.
If Gameweek 4 Wildcarders want the second to be later, it means a huge gap in between. Over 20 rounds, giving plenty of time for a squad to fall apart and crawl from week to week.
Man City and Brentford are already known to have a Blank Gameweek 18.
A GAMEWEEK 4 WILDCARD DRAFT
Taking all this into account, let's use PlanFPL to put together a good Wildcard squad for this week.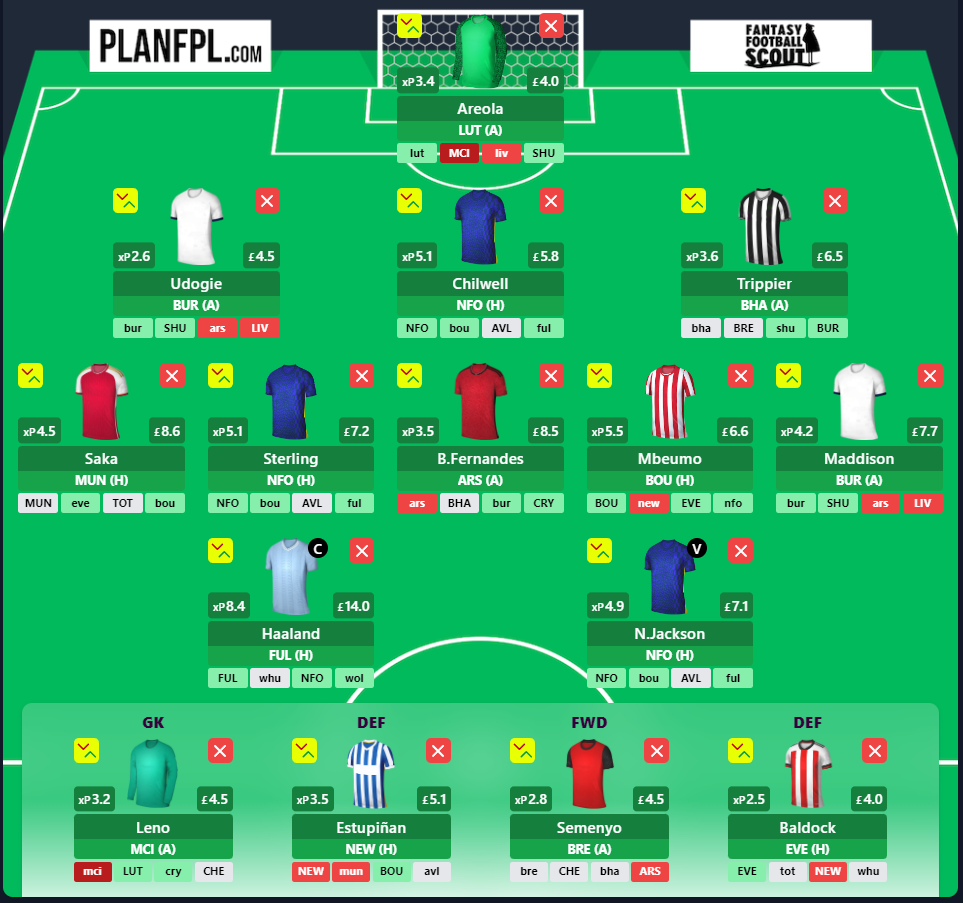 The above leaves around £1.5m in the bank but leaves out high-profile names like Marcus Rashford (£9.0m) and William Saliba (£5.2m).
Both narrowly miss out here, as do Jarrod Bowen (£7.1m), Rico Henry (£4.6m) and Aston Villa pair Ollie Watkins (£8.0m) and Moussa Diaby (£6.6m). Be ready to pounce when fixtures improve for Unai Emery's side.
A Man City defender could be included instead of Pervis Estupinan (£5.3m) but it's always tough to guess Pep Roulette.